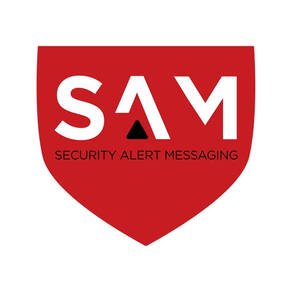 iSIGN SAM
Security Alert Messaging
1.8
for iPhone, iPod touch
About iSIGN SAM
The iSIGN SAM solution combines digital signage and extensive real time mobile device messaging to quickly notify users of a security event and provide them with timely information to support their safely exiting an area. SAM can ensure that users risk of injury is dramatically reduced by providing them with the information that they desperately need in a time of crisis and thereby reduce risk to public space administrators including municipalities, campuses, shopping centers, etc. Multiple communication channels ensure user connections. These include digital signage and mobile messaging. To ensure that users are connected to SAM and to monetize SAM installs, use it for advertising, promotion or even user loyalty support. Then, when it is needed, SAM can engage and direct users to a safe and secure location.

-----------------

SAM Benefits

Comprehensive. Engage with everyone in all public space locations using digital signage and mobile device screens.

Get user's attention regardless of whether they are looking up or down at their device screen.

Effective. Route users to safety using content that includes static graphics, animations and videos.

Heroic. Track Wi-Fi connected or Bluetooth discoverable device users presence in real time when they are near Smart Antenna devices. Show rescuers the proximity of these users to support faster rescue.

Fast. In a matter of seconds reach out to tens of thousands of users over multiple communication paths.

Cost-Effective. Leverage SAM's communication support for advertising, promotion or even full support for user loyalty. Revenue from these activities turns SAM into a revenue positive solution.

Flexible. Provide users with the ability to filter promotional content to ensure that they are happy, engaged and much more likely to use SAM frequently.

Reliable. Engage SAM users before an event occurs by providing them with beneficial messaging every day. Then, feel confident that SAM messages will reach users if an event should occur.

Extensible. Add messaging support to your existing app.
Measurable. Track SAM user engagement via email receptions, mobile message, web page and app screen views.

-----------------

SAM Features
Digital signage integration supports display of emergency, advertising and promo content on an unlimited number of screens. The integrated signage platform supports both indoor and outdoor signage installs. Support for display of dynamic content such as news and weather is also available.

Rich messaging options are from a variety of supported all-weather field devices.

Smart Antenna devices reach out to mobile phones directly (no carrier fees) using a variety of mobile messaging techniques.

SAM digital signage platforms also broadcast beacons including Apple iBeacons. These beacons can signal installed iPhone apps to display specific screens (with emergency, advertising or promo content). The iPhone resident Wallet app can display content when signalled by an iBeacon.

The SAM server can send out SMS text messaging to users that have opted in and provided their mobile phone number.
The SAM Server can also send out email messages to users that have opted in and provided their email address.

All SAM messaging is controlled by operators from a centralized cloud-based dashboard. The SAM dashboard supports setup of synchronized immediate emergency messages as well as schedulable content for advertising and promotions. In addition to content control, the SAM dashboard supports monitoring of all field devices to ensure that the SAM system is always up and running with 100 percent messaging capability. The SAM dashboard also supports filtering and reporting of user engagement statistics.

The SAM solution can be added to any network of iSIGN devices that have already been installed - at any location and time.

SAM is offered in all locations with no user costs. Users can opt-in and receive emergency, advertising and promotional messages with no SAM system fees.
What's New in the Latest Version 1.8
Last updated on Jan 13, 2021
Old Versions
Beacon integration to Minew beacons for messaging activities.
Minor Bug Fixing.

Version History
Beacon integration to Minew beacons for messaging activities.
Minor Bug Fixing.

Beacon integration to Minew beacons for messaging activities.
* Option to choose Client during Registration.
* Option to choose Location during registration & Profile.
Added support for iPhone X Screen
iSIGN SAM FAQ
Check the following list to see the minimum requirements of iSIGN SAM.
iPhone
Requires iOS 10.3 or later.
iPod touch
Requires iOS 10.3 or later.
iSIGN SAM supports English