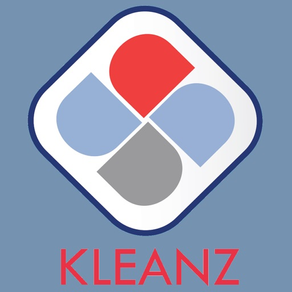 KLEANZ Food Safety Compliance
Have KLEANZ On The Plant Floor
1.84
for iPhone, iPad and more
KLEANZ Food Safety Compliance Screenshots
About KLEANZ Food Safety Compliance
KLEANZ Mobile iOS by Nexcor Technologies, the leader in Enterprise Quality Management Solutions, extends your existing KLEANZ or KLEANZ PRO solution to your mobile devices. It provides a paperless solution with live-time recording of inspections and work performed; tracking "Everything Food Safety & Sanitation in One-Place in Real-Time".

KLEANZ Mobile has a unique user interface that is optimized for mobile devices and designed to simplify and efficiently document all food safety, quality, and sanitation processes while on the plant floor.

Key Functionalities include:
- Inspections
- Self-Audits
- Third Party Audits
- Non-Conformance Tracking
- Corrective Action
- Preventive Action
- Pre-Ops / Line Release Verifications
- Allergen Change-Over Documentation
- Resource Management
- MSS Automation
- Verification & Validation of Work Performed
- Critical Control Points Tracking
- SSOP Documentation & Verification
- Man-Power Management
- Training Validation & Tracking
- On-Demand Task Verification

KLEANZ Food Safety Compliance and Sanitation Management is a proactive approach to quality management in a collaborative environment. It is designed to assist the food and beverage industry with meeting the requirements of the cGMP, Hazard Analysis, and Risk-Based Preventive Controls for Human Food regulation (21 CFR Part 117).

The benefits of KLEANZ Mobile include:

- Facilitates: "Plan – Do – Check – Act"
- Flexibility – Users can access KLEANZ Mobile at their convenience.
- Efficiency – Mobile access to KLEANZ means urgent records can be acted on immediately. New records can be created while on the plant floor documenting quickly changeovers, line releases, pre-flights, metal detection verifications and more.

Accuracy – Information is directly entered in KLEANZ Mobile, eliminating double entry.

For trouble logging in or other support issues please contact support@nexcortech.com or go to http://www.nexcortech.com/support.htm.
What's New in the Latest Version 1.84
Last updated on Dec 4, 2023
Old Versions
Added the ability to add image to worksheets
Added the ability to add multiple signature to work
Version History
Added the ability to add image to worksheets
Added the ability to add multiple signature to work
Fix to disable team entry on Worksheet Labor History entries
Fix for Change Plant feature
Fixed some French and added missing translations
Fixed for filters on All Work Packs
Updated server connectivity when app starts
Added Materials Request to Main Menu -> Inventory -> Materials Request
Fixed Labor History layout on phone-sized devices
Removed optional field from login
Fixed image sizing
Fix for taking photos
Added a font needed for some text
Support for upcoming features
Slight changes to swab entries
Fix for daily duty popup being dismissed when tapping the side of the screen
Moved some app data files to be available to users
Added a setting to help with troubleshooting
Fixed images on worksheets
Added additional logging for Time Tracker
Updated CAR Authorization
Fix bug syncing inspections
Fixed being able to have positive comment with action on an Inspection Event
In materials list screen, scanning will set location picker if a matching part was not found but a matching location was found
Fixed showing text box on chat page while typing
Fixed Labor History entry of breakdowns with material usage to always have 0 time
Fixed CP label of numeric CPs to not show it was entered when it hasn't been
Removed employee number from employee selection - now shows just last name, first name
Added chat function

Improved syncing parts

Added support for Compliant/Noncompliant/NA control point


Fixed issue logging in sometimes
Fixed sign-off redos sometimes not syncing properly
Fixed editing images not saving the changes
Fixed adding images to Sign-off redos
Fixed tagging CARs as a team
When the Materials list shows only one item, don't need to select it before tapping Cycle Count
Images can be added to the image library from Equip/Area Details or Material Details screens
Alpha and Pass/Fail control points are now required to have a value to be marked done
Sync button on About page opens sync popup page instead (same as Sync on toolbar)
Added confirmation to tapping None Complete on worksheets details screen
Support for KLEANZ 6.4
Added Spanish language
Bug fixes
Changed images on worksheet tasks to have a button to view the images in fullscreen instead of in the list
Fixed PDFs not working on iOS12-
Added a character counter worksheet comments (250 max) and alpha control points (255 max)
Fixed Labor History Entries not listing anything
Fixed team tagging so you can't have a team of 1 anymore
Fixed images from the edit picture feature not being printable in reports on the desktop
Bug fixes, especially for a crash on iOS 11 and older devices with My Work Packs and All Work Packs
You can now take multiple pictures to attach to CARs and Inspection Events
You can annotate/edit pictures on CARs and Inspection Events (Remember to save the CAR/Event for picture edits to sync)
Worksheet search defaults to current employee
Added paperclip icon to the top of the Worksheet Tasks list so you can get to the attachment more easily
Added an alert to Worksheet tasks when tapping Tag Selected if not everything was marked as done
Fixed Worksheet highlighting in My/All Work Packs
Changed all switches to checkboxes
Main Menu -> Worksheets button needs permissions for either viewing worksheets or creating quick create permissions
Now able to download equipment manual and worksheet PDFs from the Equip details screen (Main Menu -> Equip/Areas -> Select one -> Details button)
The attachment icon on worksheet details takes you to the Equip/Area details to download the PDF. If you already have the PDF downloaded, it opens the PDF instead
My/All work packs now highlights worksheet the same as the worksheets list as green/yellow/red. DD/CAR/CW/C&S are still only green if complete
Gets user permissions when logging in if connected to the server so missing permissions problems should happen less
Added a ping button to the bottom right of the KLEANZ Login page. This lets you know if the sync server can be reached and works the same as the 'cables' icon in the app
Added the system's plant name to the KLEANZ Login page if it can reach the server
Signing inspections has moved to a button on the Main Page of the inspection
The loading screen will retry getting things twice. It won't skip the rest if the app goes to sleep for too long
Fixed Labor History entries to match desktop
Fixed a bug where a worksheet in the Worksheets List wouldn't open if the last worksheet opened was closed by using the back button
Fixed the filters on the CARs List page
Fixed worksheets showing teams of one
Fixed the Add Existing button on All Work Packs for phone layouts
Removed the feature to make lists more performant since it was causing a lot of issues. This fixes issue like not being able to edit an inspection or enter control points on worksheets
Fixed crash when leaving a PDF and work pack groups that went missing
Small fixes for Teams list not showing names until tapped, new inspections not automatically appearing after tapping start
KLEANZ Food Safety Compliance FAQ
Check the following list to see the minimum requirements of KLEANZ Food Safety Compliance.
iPhone
Requires iOS 11.0 or later.
iPad
Requires iPadOS 11.0 or later.
iPod touch
Requires iOS 11.0 or later.
KLEANZ Food Safety Compliance supports English, French, Spanish
KLEANZ Food Safety Compliance Alternative