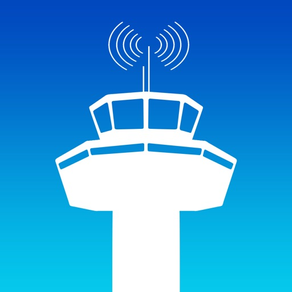 LiveATC Air Radio
Live air traffic control radio
2.3.0
for iPhone, iPad and more
LiveATC Air Radio Screenshots
About LiveATC Air Radio
LiveATC Air Radio is brought to you by LiveATC.net
PLEASE READ ***IMPORTANT NOTICE*** BELOW **BEFORE** PURCHASING
This notice relates to countries not covered by the LiveATC.net system

Stuck in the airport terminal and want to know why you're delayed? Live near an airport or enjoy plane-spotting and want to tune in to the pilots and the control tower? Have you always wondered what pilots talk to air traffic controllers about? Now you can stop wondering and tune in live!

LiveATC Air Radio provides a quick and easy way to listen in on live conversations between pilots and air traffic controllers near many airports around the world. LiveATC Air Radio lets you easily browse by U.S. state, Canadian province, or by country to find an airport of interest. Once you find an interesting channel you just add it to your Favorites list for quick and easy access! You can also use the Nearby function to find airports near you.

The LiveATC network (www.liveatc.net) is the world's largest network of streaming audio feeds focused solely on aviation-related communications, currently covering over 1,200 airports around the world with almost 3,000 different audio feeds and growing daily!

*** IMPORTANT NOTICE ***
Please check to see if your country, city and/or airports of interest are covered by LiveATC *BEFORE PURCHASING* - check at: https://liveatc.net . Note that we do not have coverage in the U.K., Belgium, Germany, Iceland, Italy, New Zealand, Spain and other countries where streaming ATC communications is prohibited by law.

Available airports/channels are subject to change at any time - LiveATC owns and operates many of the receivers used in the network but many are provided by volunteers. Available airports can change due to reasons beyond our control. For this reason there is no service guarantee - and there is no guarantee that any particular channel will be up 24/7, though we make our best effort to do so and have a good track record of uptime.

Follow LiveATC for feed updates and breaking aviation and ATC-related news:
Twitter: https://twitter.com/liveatc
Facebook: https://facebook.com/liveatc
What's New in the Latest Version 2.3.0
Last updated on Apr 9, 2021
Old Versions
- Stereo channel support (VU meter/balance)
- Full support for Light/Dark Mode
- Updated iPad user interface
- Mix ATC audio with other apps
- iOS 14 widget
- Misc bug fixes


Version History
- Stereo channel support (VU meter/balance)
- Full support for Light/Dark Mode
- Updated iPad user interface
- Mix ATC audio with other apps
- iOS 14 widget
- Misc bug fixes


2.2.1:
- Improved frequency search

2.2:
- Search by frequency
- Recent channels
- Listener count on player screen
- Bug fixes

- Search by frequency
- Recent channels
- Listener count on player screen
- Bug fixes
- Improved handling of Favorites
- ARTCC section headers
Improved streaming engine
Bug fix for obscure crash
- Complete re-write to prepare for future features
- New player-centric UI
- Better accessibility support
- Support for newer devices
- Full rotation support
- Improved Bluetooth support
- Car Bluetooth channel title support
- Many bug fixes
- Runs natively on iPad (iOS 8 only)
- Update network reachability code
- Updated various libraries
- Misc. bug fixes
- Remove weather button if stream is HF (not applicable)
- Fixes for iOS 6 and iOS 7
- Enhanced display support for iPhone 6/6+
- Misc. code cleanup changes
- Include @3x Retina HD assets
- Update some 3rd-party modules
- Support various screen sizes on iOS 8
- Misc. iOS 8 cleanup
- Accessibility labels for play/stop/loading button
- Fix location services privacy on iOS 8
- Updated initial airport database
What's New in Version 1.8

- Code rewritten and optimized for iOS 6 and 7
- This version requires iOS 6.1 or later
- Optimized for iPhone 5
- Enhanced graphics for Retina resolution
- App looks great on iPad now!
- Fixed/enhanced social sharing
- VoiceOver support (accessibility)
- Bug fixes
- Fixed database issue when starting initially without net connection
- Made "stop play" button more visible (red) in player
- Initial compatibility support for iOS 5
- Made small buffer setting lower to reduce reception delay
- Added icon for retina display
- Increased size of default audio buffers (adjustable in preferences).
- Increased reliability and consistency of network detection.
- Increased reliability of feed database maintenance.
- Improved button display for when player goes in and out of buffering.
- Fixed clipping alert error when database refresh alert was showing at the same time as the initial iOS 4.0 alert when user starts app.
- Fixed double iOS 4.0 alert - was actually just hiding and reshowing when refresh alert would show/finish.
- Fixed WiFi network detection issue
- Fixed broken "Edit Favorites" sort capability
- Added dynamic weather radar (USA now, other locations to come)
- Enabled "iPod controls" to control player when app running in background
- Automatic airport database updating (removed preference)
- Airport diagrams available for all airports (USA was always available, now starting to add charts for Canada and other locations)

- Enhanced multitasking support for iOS 4
- Added back background play for older devices (e.g., iPod Touch)
- iOS 4 multitasking support (native background playing)
- Added VU audio meter

- Twitter integration
- Facebook integration
- ICAO airport code search
- Added frequency lists for each feed
- Added ability to order Favorites
- Added Google Maps display inside "Nearby"

- Background playing
- User can specify distance for Nearby Airports
- Changed startup to be faster and more efficient
- User preference to select/deselect db auto-update at startup
- Airport Diagrams for all U.S. airports
- "Now Playing" buttons now on navigation bar
- Better navigation
- Sleep timer
- Better handling and display of METAR weather

* Auto-connect to channel when selected (user preference)
* Greatly improved auto-reconnect code - smoother operation when loss of signal or flaky cellular handoffs occur
* Live METAR weather for feeds
* Airport diagrams for U.S. airports
* Navigation to HF (shortwave) Radio feeds
* Navigation to U.S. ARTCC feeds
* As always, an ever increasing number of feeds to choose from on the LiveATC.net system (constantly updated outside of app)


LiveATC Air Radio FAQ
Check the following list to see the minimum requirements of LiveATC Air Radio.
iPhone
Requires iOS 12.0 or later.
iPad
Requires iPadOS 12.0 or later.
iPod touch
Requires iOS 12.0 or later.
LiveATC Air Radio supports English
Related Videos
Latest introduction video of LiveATC Air Radio on iPhone
LiveATC Air Radio Alternative