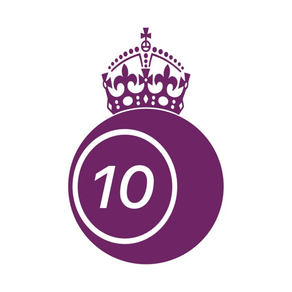 LottoPro
PowerBall and Mega Millions
5.1.2
for iPhone, iPad and more
About LottoPro
The most comprehensive Lottery App for the iPhone and iPod.

Play both the Mega Millions and Powerball lotteries with Lotto Pro!

Lotto Pro is a revolutionary app for people that play Mega Millions or PowerBall. It is a feature packed lottery results app! Lotto Pro allows you to check lottery results, pick your numbers, match winning numbers, auto-calculate your winnings, browse historical results, identify ball number trends (most frequently selected or overdue numbers), and generate quick picks based off of these trends. Lotto Pro is a must have app if you play the lottery.

The Lotto PRO App is a FREE app with Ads support.


LOTTO APP FEATURES:
• Designed Specifically for Mega Millions and PowerBall Lottery
• Countdown Timer until Next Drawing
• Displays the estimated Jackpot (and Cash Value)
• Enter your Numbers (self selected or quick pick)
• Automatic matching of your numbers to winning numbers
• View historical results of all PowerBall and Mega Million drawings
• Analyze trends of the most frequent or most overdue numbers
• Set your Quick Pick Style (more frequent, overdue, or favorite numbers)
• Quick Picks are statistically evaluated to optimize likelihood of matches
What's New in the Latest Version 5.1.2
Last updated on Apr 13, 2021
Old Versions
* fixed small bug during initial synch
Version History
* fixed small bug during initial synch
* updated code for iOS 14
• added https protocol
• various internal fixes when storing the draws
• fixed rare problem during synch in old devices
• revamped user interface colours
• fixed draws dates
• fixed a situation where the adbanner would not display and block the ability to select 'Powerball' and 'Megamillions' in History and Statistics sections
• fixed a rare random bug on favorites pick
• squashed a little insect that was roaming free in the code, preventing to receive the lottery draws notifications
Welcome to the new LottoPro!
We rewrote the application from ground zero and we are proud to present the new 'foundation' version.
We have in plan to implement new features, so stay tune!

A little note for iPad owners: LottoPro was initially designed to support only iPhone,
we are in the process to completely revamp the user interface for iPad,
to take fully advantage of the native screen size.

TL;DR
• new and modern user interface design
• better statistics algorithm for 'frequent' and 'overdue' numbers
• better 'quick pick' algorithm

ps: this app is free but serves Ads from time to time; this can gives us a 'margin' to keep the development of future releases
Meanwhile we are moving forward with the new major version of LottoPro,
we keep an eye to fix little bugs in the current one.

TL;DR
• fixed a crash when selecting a 'Quick Pick' in 'Numbers' section
. removed that annoying initial interstitial ad
. squashed a little bug hiding in the corner
. killed a nasty bug

BIG NOTE: This is the last update before the launch of the 2.0: new features, new design, new possibilities to win!
fixed network error that is causing some critical crashes during sync
. fixed crash during lottery synchronization due to network error
. various user interface adjustments for iPhone 6 and 6 Plus
. quick pick numbers has been updated with the last Powerball new range
. added in-app purchase to remove ads
Powerball Lottery Update
1-69 White Balls
1-26 Red Balls (Powerball)

iOS 9 imporvements
. various internal fixes
. new navigation system (old school tabs)
. min iOS 8 support
. added Lotto Today Widget
. fixed next lottery countdown
. fixed draws filter when selecting an existing Pick
Fixed countdown and next draw date for Mega Millions
LottoPro FAQ
Check the following list to see the minimum requirements of LottoPro.
iPhone
Requires iOS 13.0 or later.
iPad
Requires iPadOS 13.0 or later.
iPod touch
Requires iOS 13.0 or later.
LottoPro supports English