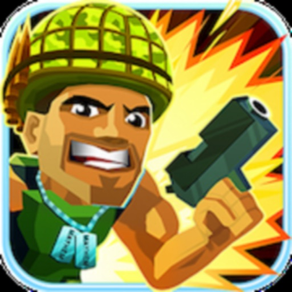 Major Mayhem
Gun Shooting Action
Free
Offers In-App Purchases
2.5.7
for iPhone, iPad and more
About Major Mayhem
TOP TEN "free" App!

Touch Arcade says Major Mayhem's 2.0 update is "ridiculously huge...almost feels like a completely new game!"

"One of the best rail shooters on the App Store!" -IGN 8.5/10
"It's funny, fast, violent, and leaves you wanting more." -PocketGamer Silver Medal
"I got points for Chicken Combos." -AppSafari 4.5/5

Meet the newest recruit in the Adult Swim Games army: Major Mayhem. He's got an itchy trigger finger, some scratchy stubble, and a fondness for shooting dudes in the face. Run and gun your way through gorgeous 3D environments as you embark on a mission to rescue your kidnapped girlfriend from the Forces of Evil. Guns, grenades and an assortment of other tools of destruction are at your disposal, and you'll need every last one of 'em. So what are you waiting for, Major Mayhem? The future of the Free World -- and your love life -- hangs in the balance.

WHAT PEOPLE ARE SAYING:
>> "This is slaughter done right, with enormous weaponry and a huge sense of fun." -PocketGamer
>> "…extremely enjoyable and addictive. Major Mayhem takes elements from an Operation Wolf style shooting gallery, Canabalt platforming, Gears of War duck-and-cover and Max Payne bullet time, and mixes it into an action-packed budget platformer that's hard to put down." —TouchGen
>> "Major Mayhem is one of the best rail shooters on the App Store." -IGN
>> "Bring[s] back memories of such games as Lethal Enforcers and Virtua Cop, or even more recent fare such as the Resident Evil Chronicles games for the Wii, though without being quite as serious as any of those." -Slide to Play

FEATURES:
• Universal app, optimized for play on iPhone, iPod touch or iPad
• 45 levels of non-stop action
• 4 game modes
• Game Center Leaderboards
• 100 achievements
• 150 mini mission objectives
• 5 power ups
• Battle your way past hordes of enemies in three picturesque environments: Tropics, Metropolis and Desert
• 20 unique weapons in your arsenal to deal out MAJOR MAYHEM, like:
>> Automatic Shotgun
>> Minigun
>> Quadzooka (like a Bazooka only more massive-er!)
>> And more!
• 42 costumes and hats to make your Major's fashion conscience which dealing massive devastation!
• Save the world, and your girlfriend

HAVING PROBLEMS? Help us fix any issues you run into while playing - email games@adultswim.com and tell us what you're seeing along with the device/OS version you're on.

Ad Choices: policies.warnerbros.com/privacy/en-us/#adchoice

Terms of Use: policies.warnerbros.com/terms/en-us

Do Not Sell My Personal Information: privacycenter.wb.com/donotsell

The Terms of Use for this app includes arbitration for disputes – see http://www.adultswim.com/footer/legal/terms-of-use.html
What's New in the Latest Version 2.5.7
Last updated on Apr 19, 2022
Old Versions
Version History
- Now compatible with iOS 12!
- Now compatible with iOS 12!
- The coin price of weapons has been reduced for better game balance.
- Streamlined Unlocking weapons. Now the next weapon available for purchase is shown on the end level Tally screen.
- Daily 500 coins are now available on the end level Tally screen so you no longer have to return to the main menu to claim them.
- Text has been added to coin packs descriptions in the armoury to indicate which packs are the cheapest required to unlock all remaining weapons and items in the game.
- NEW! Weapons can be unlocked with coins once again! Due to popular demand we have enabled the purchasing of weapons with coins! Weapons will no longer unlock for from completing mission objectives but instead you can simply purchase them with coins like you would other armoury items.
- NEW! Daily gift. You can claim a daily bonus of coins every day you play Major Mayhem.
- NEW! Rewarded Video Ads. You can choose to watch rewarded video ads and receive a boost to your coins for your efforts! These video ads replace banner ads and should result in a less intrusive and better experience while playing Major Mayhem.
- NEW! Graphic improvements, shadows and lighting.
- Bug fixes
- Performance improvements.
- Various bug & crash fixes
• Weapons now unlock through rank (minigoals) rather than coins can be won in the reward roulette
• iCloud support (make sure you're logged into Game Center and iCloud)
• Various under the hood tweaks and fixes

Enjoying Major Mayhem? Show your support by leaving your feedback via a review in iTunes
- iPhone5 Support
- Bug Fixes
Major Mayhem has a Major new update!
We know it's crazy but Major Mayhem is now FREE!

WHAT'S NEW?
There is a heap more to do in Major Mayhem:
• 100 Achievements!
>> Game Center enabled or available offline if that's how you roll.
• 150 mini mission objectives.
>> Complete them all to earn the highest rank and get rewarded for your effort!
• 3 new game modes
>> Timebomb (Minute mode)
>> Arcade (Random level order, insane scores)
>> Survival (Try to survive)
• Heaps of unlockables you can earn in game.
• 5 new and awesome power ups! including:
>> Air Strikes
>> Super Ammo
>> An invincible Robo-Major
>> and more
• 13 new weapons! including:
>> Magnum
>> Plasma Rifle
>> Power weapons that can shoot through objects!
>> and much more!
• 40 new and amazing costumes and hats!
• iPad retina support
Bug fixes and Optimisations:

- Major Mayhem is now under 20MB so you can download via cell network
- Jumpy framerate at the start of the game reduced somewhat but not totally gone.
- Level select menu performance increased
- The Major can no longer get stuck when jumping at specific places like the water tower on the first city level and the presidents office door.
Miscellaneous performance fixes.
Major Mayhem FAQ
Check the following list to see the minimum requirements of Major Mayhem.
iPhone
Requires iOS 9.0 or later.
iPad
Requires iPadOS 9.0 or later.
iPod touch
Requires iOS 9.0 or later.
Major Mayhem supports English, Catalan, French, German, Japanese, Korean, Simplified Chinese, Spanish
Major Mayhem contains in-app purchases. Please check the pricing plan as below: