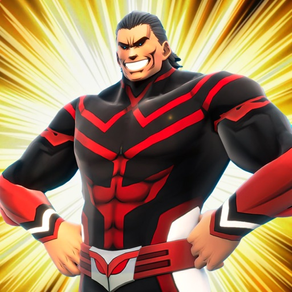 Mighty Hero vs Toilet Monsters
Super Hero 3D Cameraman Wars
1.0.2
for iPhone, iPad and more
Mighty Hero vs Toilet Monsters Screenshots
About Mighty Hero vs Toilet Monsters
In the midst of the Spider Plant Monster crisis that has befallen Starpolis, the city faces an even stranger threat – toilet monsters. These bizarre creatures, spawned from the same mysterious mutation that affected the Spider Plants, are wreaking havoc on the city's sanitation system. The Guardian of Starpolis, already dealing with the chaos caused by the Spider Plant Monsters, now finds themselves facing a new and unexpected challenge.

As the Guardian takes to the skies, they notice an unusual disturbance in the city's plumbing, causing toilets to transform into monstrous entities. It becomes clear that these toilet monsters are not just a random occurrence but are somehow connected to the same forces that mutated the Spider Plants.

The Guardian, torn between battling the Spider Plant Monsters and dealing with this bizarre toilet menace, must adapt their abilities to this unanticipated threat. The fast-paced action intensifies as the Guardian navigates the city, fending off both Spider Plant Monsters and toilet monsters with a combination of super strength, flight, and innovative tactics.

The city, now caught in a dual crisis, experiences unprecedented destruction as Spider Plant Monsters weave their webs of chaos, and toilet monsters unleash watery mayhem. The Guardian races against time to unravel the mysteries behind these dual mutations, exploring different locations in the city to confront the villains responsible for this unprecedented catastrophe.

Power-ups and upgrades become essential as the Guardian faces adversaries with unique abilities, some of whom can manipulate both plants and plumbing to their advantage. The engaging story takes unexpected twists as the Guardian discovers a sinister plot intertwining the Spider Plant Monster mutation and the creation of the toilet monsters.

The true test of heroism unfolds as the Guardian strives to maintain order in a city besieged by monstrous foes from both the flora and plumbing realms. In this uniquely blended tale, the Guardian of Starpolis faces not only physical challenges but also the absurdity of battling toilet monsters while maintaining the city's safety. Will the Guardian emerge victorious, bringing an end to the chaos, or will Starpolis succumb to the combined forces of botanical and plumbing nightmares? The fate of the city hangs in the balance, and only the Guardian can flush out the truth and restore peace to Starpolis.
What's New in the Latest Version 1.0.2
Last updated on May 13, 2024
Old Versions
Mighty Hero vs Toilet Monsters FAQ
Check the following list to see the minimum requirements of Mighty Hero vs Toilet Monsters.
iPhone
Requires iOS 12.0 or later.
iPad
Requires iPadOS 12.0 or later.
iPod touch
Requires iOS 12.0 or later.
Mighty Hero vs Toilet Monsters supports English
Mighty Hero vs Toilet Monsters Alternative