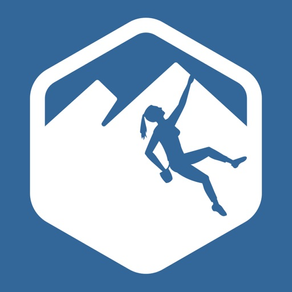 Mountain Project
4.5.3
for iPhone, iPad and more
Mountain Project Screenshots
About Mountain Project
Beyond the Guidebook: The Definitive Rock Climbing Resource.

• Find outdoor climbing areas near you, and navigate to them, using the map. This super-handy new feature is one of our personal faves.
• The much requested route finder: Easily sort routes by discipline, difficulty, star ranking and more. If a 4-star M9 is your thing, we'll help you find it.
• Search our entire database of 155,000+ climbing routes, even offline.
• Download route beta, photos, and topos state by state for offline use — because the best crags often have the worst reception.
• View a climbing area's route stats (how many 5.11s are there?) and critical info (when is the raptor closure again?) in a single glance.
• Chat, ask questions, or put out a call for partners in our forum.
• Rate routes and photos, keep track of attempts & sends, or make a to-do list
• It's free to download and free of advertising too. Everything you need, nothing you don't.
What's New in the Latest Version 4.5.3
Last updated on Apr 18, 2023
Old Versions
Bug fixes and maintenance. Climb on.
Version History
Bug fixes and maintenance. Climb on.
Bug fixes and maintenance. Climb on.
Minor bug fixes and maintenance. Climb on.
We've packed a bunch of things in to this release for you:
- To prevent search from getting out of date, we now search only the areas you've installed
- We've added filtering by pitches to the Route Finder
- Removed automatic updates. Now you get an update button and you decide when you want to update.
This update allows facebook profile photos to continue working.
This release addresses some maintenance issues and has some content updates.
This release simply updates the search content.
We've addressed some small issues, added some missing areas to the search indexes and added "Sign In WIth Apple".
This release addresses an issue that users have reported about downloaded areas being deleted.
Fixes an issue with accepting the privacy policy from sign in with Facebook.
This release contains bug fixes and some usability enhancements.
This version of the app addresses the updating of packages too aggressively. It will only auto update once every two weeks now, and you can cancel package installation with a cancel button (during the download portion of installation).
In this release, we've updated our privacy policy, fixed some bugs and added some new features. Climb on!
This release addresses Dark Mode issues in iOS 13 in the Route Finder and a crash that happened when you entered a search that contained a single quote (').
This release fixes the issues with Dark Mode in iOS 13.
We've fixed a number of bugs in this release and we have also introduced a new Terms of Use and Privacy Policy.
This update addresses an issue a small number of users experienced where their downloaded photos were being deleted out from under them by the operating system, because they were running out of space on their device.
Mountain Project now allows you to see approach trails! There is also a fix for an issue that affected viewing images for some users.
We've taken steps to fix an issue that some users reported about downloaded images disappearing. We'll be keeping an eye on that. Also, we've added a mountain project sticker pack!
This update to Mountain Project brings some content updates.
Hello again climbers! In this release we're allowing iOS 9.0 (we were requiring 9.3 at a minimum before) so that some of our users can install the latest version. We've got a couple of small fixes, no major features yet.
Hello everyone, I'm Eric, your new Adventure Projects iOS Developer. I wanted to introduce myself with an app update. In this release, we're making sure you're up to date with the most recent search results and some stability fixes. I really look forward to serving you on behalf of REI's Adventure Projects.
Bug fixes and improvements
- Area navigation update: tapping back from an area will take you back to the area navigator, if you were there before viewing the area
- Bug fixes and improvements
- Area bookmarks are finally back. Select bookmark from any area and it will show up above your downloaded areas on the home screen. We are sorry we took this feature away and promise not to do it again.
- Bug fixes and improvements
Mountain Project FAQ
Check the following list to see the minimum requirements of Mountain Project.
iPhone
Requires iOS 13.0 or later.
iPad
Requires iPadOS 13.0 or later.
iPod touch
Requires iOS 13.0 or later.
Mountain Project supports English
Mountain Project Alternative