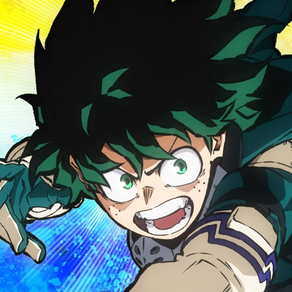 MY HERO ULTRA IMPACT
New My Hero Academia Anime RPG
Free
Offers In-App Purchases
2.17.0
for iPhone, iPad and more
MY HERO ULTRA IMPACT Screenshots
About MY HERO ULTRA IMPACT
A new mobile game based on My Hero Academia is here!
Check out a lot of exclusive illustrations of the Heroes and the Villains!
Recommend to you who want to enjoy strategic battles with their Quirks!

What you'll find in MY HERO ULTRA IMPACT:
- An explosive battle RPG with heroes and villains you know and love.
- Use your heroes' iconic Quirks and let them shine!
- Climb the ranks to be the top hero!

▼ A casual 3-on-3 Quirk battle with your trained heroes and fierce opponents!
- Activate Quirks with the tap of a finger.
- Build skill chains with your heroes' Quirks!
- Break out your flashy Plus Ultra Moves for the final punch!

▼ It's on you to develop your favorite heroes' Quirks!
- Train up with U.A. High teachers and Pro Heroes at the Unforeseen Simulation Joint (USJ)
- Formidable enemies await at the never-before-seen VE Tower!

Put together your team of heroes, use the Quirks to your advantage, and stand bravely against the heinous pursuits of the villains looming ahead!

▼Relive the tale of My Hero Academia in the Main Quest!

The story begins with the meeting of the main character, Izuku Midoriya, and the Number One Hero, All Might.
Watch U.A. High Class 1-A learn and grow, and prepare for the looming threats of the League of Villains and the Shie Hassaikai!
Face off against Class 1-B in cross-class matches and get ready for the work studies at Endeavor Agency!
And prepare for the showdown against the League of Villains and Meta Liberation Army!

Relive beloved scenes from the anime as you strive to turn Deku and his friends into pro heroes!

▼ Check out a collection of exclusive illustrations!
- Display your favorite Ultra Rare character on your Home screen and watch them come alive with the "Cinemagraphy" feature!
- Train your characters to awaken them and unlock new original illustrations.

▼ Customize your Hero Base as U.A. High School, a villain hideout or more!
- Invite your heroes and villains to your space!

▼ Test your skills in Ultra Arena!
- Challenge other players and battle against their hero teams.
- Leverage the Quirks of your carefully trained heroes to win!
- Master the game and claim your spot at the top of the rankings.

▼Interact with other players in Clubs!
Use fun stickers made just for the app and chat with friends!

· Official Website
https://heroaca-ui.bn-ent.net/en/

· Official Facebook Page
https://www.facebook.com/MyHeroUltraImpact

· Official Twitter
https://twitter.com/MyHeroUI

This application is distributed under the official rights from the license holder.

Bandai Namco Entertainment Inc. Website:
https://bandainamcoent.co.jp/english/

By downloading or installing this app, you agree to the Bandai Namco Entertainment Terms of Service.

Terms of Service:
https://legal.bandainamcoent.co.jp/terms/

Privacy Policy:
https://legal.bandainamcoent.co.jp/privacy/

Note:
This game contains some items available for in-app purchase that can enhance gameplay and speed up your progress. In-app purchases can be disabled in your device settings, see https://support.apple.com/en-us/HT201304 for more details.

本遊戲部份內容涉及性、暴力、不當言語情節

遊戲警語:
注意使用時間,避免沉迷於遊戲
若有以購買遊戲點數(卡)、虛擬遊戲幣或虛擬寶物作為付費方式者,應標示其付費內容及金額、遊戲部分內容或服務需另行支付其他費用,或其他類似警語
What's New in the Latest Version 2.17.0
Last updated on Oct 25, 2023
Old Versions
Update Overview
・Preparation for the new event
・Minor issues resolved
Version History
Update Overview
・Preparation for the new event
・Minor issues resolved
Update Overview
・Added a new status effect "Recovery Block"
・Adjusted the text displayed during battle when receiving a status effect
Update Overview
・Improved UI for future Events
・Changes made to game behavior when Daily Dispatches have been completed
・Minor issues resolved
・To prepare for the next event
・New Event "Club Festival"! Band Together and Aim to be the Top Club!
・Minor issues resolved
・Maximum Rank Increased
・Normal Missions Added
・Preparation for the new "Club" Pass Feature
・Preparation for the new mode "Club" release
・Addition of new mode "Club"
・Minor issues resolved
・Added Voice Lines to Voice Data Collection in Trust Levels
・New Stories in Case Files!
・New Character Stories for the Trust Level Function!
・Added a new mode, Case Files, which features new original stories
・Added a new function, in which close bonds can be created with Heroes and Villains
・Added Collection Room, Private Room, and Hero's Room to Hero Base
・Preparation for the new event
・New DX Piece Route in Ability Boards
・New Unique EX Auto Skills
・New Advanced Lv Up Limit Break
・Difficulty Level EXTREME Added to Boss Challenge Events
・Use of Skip Tickets in Boss Challenge Events
・Opening of past stages' rankings in VE Tower as well as preparations made for the addition of level SS
・Revamping of Awakening Missions
・Chapters 12 and 13 have been added to the Main Quest
・New dispatch destinations
・12th and 13th panels have been added to the Basic Route of the Ability Board
・A new poster for the Hero Base has been added as a reward for completing the 13th panel of the Basic Route of the Ability Board
・New normal missions have been added
・The Hero Base feature has been renovated
・Upgrade of some skill effects
・Chapters 10 and 11 Added to Main Quest
・New Dispatch Destination Added
・10th and 11th panel added to Basic Route in Ability Boards
・New completion reward of a poster to hang in Hero Base after completing 10th panel in Basic Route of Ability Board
・Fixed an issue in Climax Battle under certain conditions.
・Fixed an issue
・Implementation of the new event mode "Climax Battle"
・Addition of a delete account button
・Fixed an issue that causes the game to return to the Title Menu on certain devices.
・Increased the max. Limit Break for memories
・Added a skill for memories at Limit Break Lv. 5
・Improved the UI for the EX Auto Skill function
・Added new EX Auto Skills with greater effects
・Improved the Hero Base
(New 1st Anniversary decorations, new "Over here!", option to hide guest characters, adjustments to camera that allow viewing of characters from all angles)
・New item: Limit Breaker Fragments
・Fixed an issue
・Preparation for the new event
・Update the Title Screen
・Addition of Cases of Random Pieces, a new item that allows players to obtain pieces at random, to the Event Rewards
・Improvements to some UI elements for the Unforeseen Simulation Joint (USJ), and addition of illustrated memories as First Clear Rewards for Lv. 3 to Lv. 5 of each zone
・Other UI improvements
MY HERO ULTRA IMPACT FAQ
Check the following list to see the minimum requirements of MY HERO ULTRA IMPACT.
iPhone
Requires iOS 13.0 or later.
iPad
Requires iPadOS 13.0 or later.
iPod touch
Requires iOS 13.0 or later.
MY HERO ULTRA IMPACT supports English
MY HERO ULTRA IMPACT contains in-app purchases. Please check the pricing plan as below:
Roaring Muscles! Stamina Pack
$0.99
[Daily] Special Stamina Pack
$0.99
Level Up Quest 2x Tries Course
$2.99
21-Day Special Login Bonus
$7.99
UR Char. Recruit Special Pack
$24.99
UR Villain Select Pack
$39.99
Related Videos
Latest introduction video of MY HERO ULTRA IMPACT on iPhone
Latest introduction video of MY HERO ULTRA IMPACT on iPhone
Latest introduction video of MY HERO ULTRA IMPACT on iPhone
MY HERO ULTRA IMPACT Alternative