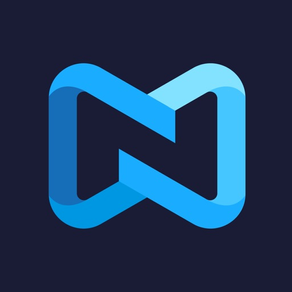 Nomad eSIM: Travel, like local
Travel, Data, Text worldwide
Nomad eSIM: Travel, like local Screenshots
About Nomad eSIM: Travel, like local
Travel like a local with Nomad! Get high speed, flexible, no-contract mobile data and SMS at unbeatable prices. No more switching out SIM cards - download an eSIM from any of our 100+ countries and get connected in 5 minutes. Get international data plans from as low as $2 / GB across Europe, North America, Asia and many more. Prepaid SMS plans using our virtual numbers start from $0.038 per text. Regional and country-specific plans to suit your travel needs.

Major features include:
Data plans and SMS packs for 100+ countries, loyalty points, multi-currency payments, data usage monitoring, and much more.

Why Nomad: The Easiest Way to Get Connected
Near-local Prices: No contract, no hidden fees, no unexpected roaming charges.
Connect instantly: No more waiting in line, get your eSIM contactlessly within 5 mins. Easy installation via QR code.
Convenient & Flexible: Keep your primary SIM for call & text, no more swapping SIMs at the airport.

How It Works
Buy a Data Plan: Search for your destination and pick any data pack - from 1 GB to 20 GB
Install the eSIM: Easy one-click installation or install via QR code
Activate your plan: Only activate when ready to use.
Buy a SMS plan: Choose a plan from US, UK or Canada - from 100 texts to 500 texts
And you're all set! Anyone can receive and send texts to/from you. Your SMS plan is also good for both local and international texting at the same great rate!
What's New in the Latest Version 5.6.2
Last updated on Apr 15, 2023
Old Versions
- Update for new eSIM plans
Version History
- Update for new eSIM plans
- Update information about the add-on plans
- UI enhancement and fixes
- Add new eSIM data plans
- UX update
- New eSIM data plans, including unlimited plan
- New font, UI update, and enhancements
- UI update for eSIM plans
- Now Nomad supports Spanish
- Updated onboarding and profile setting
- New eSIM plans
- New eSIM plans with great price and quality network
- UX update on country and regional plans
- Update on the regional plans
- Bug fixes and improvements
- Enable SMS capability. Send and receive messages with Nomad app and/or Nomad website.
- Reward program enhancement
- add reward feature. spend more get more.
- UI updates and enhancement
- update on the reminder for eSIM support on the iPhone
- payment enhancement
- show more information about the status encountered during purchase
- bug fix and enhancements
- added new eSIM plans
- improved in-app navigation
- enable account deletion
- add new promos
- Now you can install your eSIMs automatically without any complicated settings.
- Improved user experience for troubleshooting and you can directly activate add-on plans if needed.
- Improved users payment experience. Now we support 4 different currencies (USD CAD EUR GBP).
- Bug fixes
— Now we offer 10GB/20GB value packs in different popular countries!
— Find our newest plans! As low as 1.1$/GB in Austrlia
- add eSIM plans and installation instructions
- UI updates and enhancements
- update eSIM compatibility info
- Self order invalidation
- eSIM troubleshooting guide
- Notification
- Add regional plans
- UI update and bug fixes
- updated activation instructions
- review prompt
- Credit for users
- Promo and referral enhancement
- UI update and bug fixes
- Add PayPal payment method
- Referral and promo enhancement
- eSIM plan addition
- UI update

- Add referral and promos
- Bug fixes and enhancements
Nomad eSIM: Travel, like local FAQ
Check the following list to see the minimum requirements of Nomad eSIM: Travel, like local.
iPhone
Requires iOS 16.0 or later.
Nomad eSIM: Travel, like local supports English, Spanish
Nomad eSIM: Travel, like local Alternative