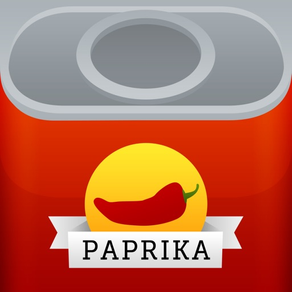 Paprika Recipe Manager 3
Organize your recipes
3.8.1
for iPhone, iPad and more
Paprika Recipe Manager 3 Screenshots
About Paprika Recipe Manager 3
Organize your recipes. Create grocery lists. Plan your meals. Download recipes from your favorite websites. Seamlessly sync to all your devices.

Features

• Recipes - Download recipes from your favorite websites, or add your own.
• Grocery Lists - Create smart grocery lists that automatically combine ingredients and sort them by aisle.
• Pantry - Use the pantry to keep track of which ingredients you have and when they expire.
• Meal Planner - Plan your meals using our daily, weekly, or monthly calendars.
• Menus - Save your favorite meal plans as reusable menus.
• Sync - Keep your recipes, grocery lists, and meal plans synced between all your devices.

• Adjust - Scale ingredients to your desired serving size, and convert between measurements.
• Cook - Keep the screen on while cooking, cross off ingredients, and highlight your current step.
• Search - Organize your recipes into categories and subcategories. Search by name, ingredient, and more.
• Timers - Cook times are automatically detected in your directions. Simply tap on one to start a timer.

• Import - Import from existing apps such as MacGourmet, YummySoup!, MasterCook & Living Cookbook.
• Export - Export your meal plans to Calendar and your grocery lists to Reminders.
• Share - Share recipes via AirDrop or email.
• Print - Print recipes, grocery lists, menus, and meal plans. Recipes support multiple print formats including index cards.

• Extensions - Save recipes directly in Safari and view today's scheduled meals.
• Bookmarklet - Download recipes from any browser straight into your Paprika Cloud Sync account.
• Offline Access - All of your data is stored locally. No internet connection is required to view your recipes.

What's New in 3.0

• iPhone X and iOS 11 support.
• iOS app is now universal.
• Multitasking support on iPad.
• Add multiple, full-sized photos to each recipe. Embed photos in your directions.
• Insert links to other recipes or websites in your ingredients or directions.
• Format recipes using bold and italics.
• Convert ingredient measurements between standard and metric.
• Search for recipes across multiple categories.
• Add custom aisles to your grocery list and re-arrange them in your preferred order.
• Create multiple grocery lists.
• Add custom ingredients to the pantry. Track quantities, purchase dates, and expiration dates.
• Move items back and forth between the pantry and grocery list.
• Add custom meal types to the meal planner.
• Create reusable menus that span multiple days.

Platforms

Paprika is available on multiple platforms so you can access it on all of your devices. Please note that each version is sold separately.
What's New in the Latest Version 3.8.1
Last updated on Sep 22, 2023
Old Versions
Show the scaling amount when printing or emailing a recipe with scaled ingredients.
Fixed a crash when editing recipes.
Version History
Show the scaling amount when printing or emailing a recipe with scaled ingredients.
Fixed a crash when editing recipes.
Improved compatibility with iOS 17.
Fix for permission issues when exporting to Reminders or Calendar.
Notes should be italicized in the meal planner month view.
Meal planner day view now shows the weekday name.
Meal plan printouts now include weekday names.
Add menu wizard now follows the menu sort setting.
Changed default recipe export location to iCloud Drive.
Added a cancel button to the grocery list and pantry search boxes on iPad.
Fixed category selection not working properly on iPad.
Fixed the main menu button having the wrong size on iPad.
Fixed issues interacting with Siri via HomePod.
Fixed a crash when importing MasterCook .mxp files.
Prevent a potential issue with deleting unintended recipes while emptying the Trash category.
Fixed another issue with recipes getting cut off on iPads when the screen is rotated.
Fixed recipes getting cut off when the system text size is changed on iOS 16.
Fix for app not loading on earlier versions of iOS.
Added support for importing Paprika recipe files directly from Messages.
Made recipe timer notifications time-sensitive.
Improvements to grocery list ingredient parsing.
Fixed browser getting stuck when downloading certain recipes.
Fixed inability to delete certain custom meal types.
Fixed a few translations.
Fixed an issue with photo selection on iOS 15.
To make it easier to add items to the grocery list and pantry, the "add item" box is now permanently visible and the search box has been moved into the toolbar.
Added the ability to select the Favorites, Uncategorized, or Trash categories in the recipe search options.
Incresed the maximum timer limit to 99 hours.
Remember the last selected grocery list when re-opening the app.
Use the currently selected ingredient units when printing recipes.
You can now request the deletion of your Paprika account from within Settings -> Cloud Sync -> Manage Account.
Minor user interface tweaks.
Added support for scaling ingredients that have alternative measurements listed, such as: 1 cup (200g).
Fixed a few crashes.
Importing a recipe that was previously moved to the Trash will now automatically remove it from the Trash.
Fixed importing certain recipes from My Recipe Book which can apparently have ingredient quantities set to infinity.
Fixed scale button getting cut off when bold fonts were enabled via accessibility.
Fixed last prepared date not showing up correctly for recipes which were scheduled on future dates.
Fixed edit category popups not showing up in the right place on iPad.
When importing Paprika files, the importer will now update any recipes that have already been imported before.
Fixed the ability to select files to import via iTunes File Sharing.
Prevent the app from being accidentally dismissed via swipe gesture when using the share extension in Safari.
Timers:

Due to the lowered volume level of timer alarms played by the iOS notification system, we have switched back to playing timer alarms directly within the app when a timer goes off. This should restore the volume level for users who felt the previous alarm was not loud enough.

Calendar:

Paprika will now export meals to an iCloud calendar by default to prevent error messages that might occur if your device's default calendar did not support adding custom events. (If you would like to export to a non-iCloud calendar you can still do so by specifying the calendar's name in Paprika's Settings.)
Added an option to set the time zone when exporting meals to the Calendar app.

Importers:

Added support for importing recipe .zip files from CopyMeThat.
Fixed importing of prep times and direction headers from MacGourmet.
Fixed a memory leak and potential crash that might occur when importing from certain apps if those files contained many photos that needed to be downloaded and processed.
Fixed crash when scaling ingredients.
Upgraded crash reporting system.
Apple Watch:

You can now view and control your recipe timers from your Apple Watch.
We have also resolved some connectivity issues between grocery lists on the watch and phone.

Printing:

You can now print multiple recipes at a time from the main recipes list by pressing the Edit button and selecting the desired recipes, and then choosing Print from the actions menu.
Additional recipe printing options have been added so you can print to A4, A5, and A6 paper sizes, choose whether to include additional recipe photos, and re-position the thumbnail photo.

Misc:

Landscape mode is now enabled on the iPhone so you can view recipe ingredients and directions side-by-side.
The Keep Screen On setting will now also be applied when you have a grocery list open to prevent the screen from turning off while you are shopping.
The recipe sharing options have been extended so you can choose between sharing the recipe source link, file, or text using the system share sheet.
Sort buttons have been added to the categories screen, grocery lists, and menus, so you can choose between sorting these items alpahbetically or manually.
Added the ability to copy items between different grocery lists and to/from the pantry.
Added the ability to swipe to delete custom grocery list suggestions.
Added a Cancel Search button that is shown when all of the recipes are filtered out by a search term.
Expired and sold out pantry items are now marked in red.
Tweaked the ingredient scaler to prevent the scaling of units into fractional quantities.
Fixed an issue with the scaling of servings.
Fixed an issue on iPad that could cause the categories pane to end up hidden.
Added the ability to duplicate a menu.
Fixed an issue causing the edit dialog to incorrectly appear when rearranging meals on iOS 13.
Fixed an issue where grocery items marked as purchased on the Apple Watch were not syncing quickly to other devices.
Added support for viewing your grocery lists on your Apple Watch.
Fixed an issue with search results when searching for recipes that belong to multiple categories.
Fixed a few crashes.
Improved support for importing recipes from My Recipe Book.
Added support for importing Pepperplate .zip export files.
Better support for importing large Pepperplate database files.
Paprika Recipe Manager 3 FAQ
Check the following list to see the minimum requirements of Paprika Recipe Manager 3.
iPhone
Requires iOS 12.0 or later.
iPad
Requires iPadOS 12.0 or later.
Apple Watch
Requires watchOS 6.0 or later.
iPod touch
Requires iOS 12.0 or later.
Paprika Recipe Manager 3 supports English, Czech, Danish, Dutch, Finnish, French, German, Hungarian, Italian, Japanese, Norwegian Bokmål, Polish, Portuguese, Simplified Chinese, Spanish, Swedish
Paprika Recipe Manager 3 Alternative