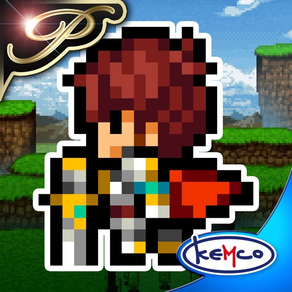 [Premium] RPG Dragon Lapis
A retro RPG is here!
$1.99
Best Deal Ever
1.1.8
for iPhone, iPad and more
[Premium] RPG Dragon Lapis Screenshots
About [Premium] RPG Dragon Lapis
The dawn of a new hero!

A thousand years ago, a great battle ensued between two dragons, one gold and the other silver, where they were sealed away. However, the real tale begins many centuries later after the Silver Dragon reawakens, and launches an assault on a frontier village in the far north.

There, a royal knight by the name of Lucas serves as a guard after being relegated to the rural and much isolated location by the King. Yet, little does he know he is, in fact, a descendant of the hero, Alaric, who once sealed the Gold and Silver Dragons in human form. Nonetheless, when tragedy strikes, he soon finds his place, and after teaming up with a band of unlikely companions, sets out on an adventure to save the world.

Features
- Make a return to the golden age of RPGs!
- Intuitive controls & retro graphics!
- Unlock the growth plates to power up characters!
- Change and master jobs to use more abilities!
- Plenty of subquests and extra content!
- Challenging dungeons full of gimmicks and formidable opponents!
- Fight various enemies and complete the Enemy Guide!
- Play the Lottery to win strong equipment!
- Character's appearance changes depending on their job!
- Splendid BGM from the renowned game composer Ryuji Sasai!

* The game can be played in its entirety without the need for in-game transactions.
What's New in the Latest Version 1.1.8
Last updated on Nov 24, 2021
Old Versions
iOS 10 and lower are no more supported (due to the changes of the development environment).
Version History
iOS 10 and lower are no more supported (due to the changes of the development environment).
This app has been updated by Apple to display the Apple Watch app icon.

English version released!
[Premium] RPG Dragon Lapis Price
[Premium] RPG Dragon Lapis FAQ
[Premium] RPG Dragon Lapis is available in regions other than the following restricted countries:
British Virgin Islands,Burkina Faso,Turkey,Uzbekistan,Palau,Czech Republic,Maldives,Ireland,Bosnia & Herzegovina,Micronesia,Germany,Cambodia,Niger,Tunisia,Guatemala,Cayman Islands,Serbia,Montenegro,Solomon Islands,Turkmenistan,Guinea-bissau,Iraq,Dominican Republic,Algeria,Sri Lanka,Malawi,Nauru,Romania,Seychelles,Croatia,Israel,Yemen,Albania,Georgia,St. Vincent & The Grenadines,Zambia,St. Kitts and Nevis,Morocco,Netherlands,Antigua And Barbuda,Finland,Guyana,Spain,Moldova,Montserrat,Poland,United Arab Emirates,Angola,Belgium,Saudi Arabia,Sweden,Chad,Lithuania,Libya,Slovenia,Sao Tome & Principe,Tonga,Vanuatu,Fiji,Kenya,Nicaragua,Jamaica,Mongolia,Mozambique,El Salvador,Tajikistan,Bhutan,Costa Rica,Trinidad and Tobago,Namibia,Congo,Cameroon,Jordan,Gambia,Cote Divoire,Mali,Turks and Caicos,Kyrgyzstan,Malta,Panama,Sierra Leone,Kosovo,Congo, Democratic Republic,Denmark,Egypt,Zimbabwe,Iceland,Italy,Kazakhstan,St. Lucia,Armenia,Brunei Darussalam,Liberia,Barbados,Bahamas,Papua New Guinea,Anguilla,Madagascar,Oman,Slovakia,Suriname,Dominica,Honduras,Latvia,Portugal,Bermuda,Grenada,Greece,Lao Peoples Democratic Republic,Myanmar,Swaziland,Botswana,Belize,United Kingdom,Macedonia,Rwanda,Tanzania,Uganda,Bulgaria,Cape Verde,Gabon,Nepal,Qatar,Senegal,Afghanistan,Kuwait,Luxembourg,Pakistan,Austria,Azerbaijan,Ghana,Estonia,France,Hungary,China,Cyprus,Bahrain,Belarus,Mauritius,Mauritania,Benin,South Korea,Lebanon,Nigeria,Norway
[Premium] RPG Dragon Lapis supports English, Japanese
[Premium] RPG Dragon Lapis contains in-app purchases. Please check the pricing plan as below:
Check the following list to see the minimum requirements of [Premium] RPG Dragon Lapis.
iPhone
Requires iOS 11.0 or later.
iPad
Requires iPadOS 11.0 or later.
iPod touch
Requires iOS 11.0 or later.
Related Videos
Latest introduction video of [Premium] RPG Dragon Lapis on iPhone
[Premium] RPG Dragon Lapis Alternative