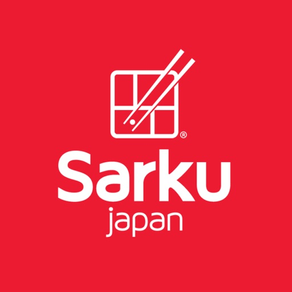 Sarku Japan
1.3.8
for iPhone, iPod touch
About Sarku Japan
The official iphone App for Sarku Japan is now available. You can order our famous Chicken Teriyaki through the new mobile app and online ordering system. The ordering experience is now in the palm of your hand.

Features
*Create your account and you'll receive $5 off your first order over $10.
*Save your favorite items to conveniently order anytime.
*Order ahead and arrange for same day pickup in a window of time you choose.
*You will receive order confirmations through text and/or email when your order is placed.
*Conveniently order and pay with your mobile device or online.
*No minimums, order as little or as much as you want.

The Sarku Japan App is available at select Sarku Japan locations. If you have questions of feedback, you can contact us at customerservice@sarkujapan.com.
What's New in the Latest Version 1.3.8
Last updated on Feb 15, 2023
Old Versions
Fix for store hours displaying wrong day of the week
Version History
Fix for store hours displaying wrong day of the week
Support for Spanish language
Feature enhancements & bug fixes
Fix for error when scanning QR code for store menu
Fix for dark mode affecting form field visibility
Minor feature enhancements and bug fixes
Minor bug fixes and feature enhancements
Minor updates and bug fixes
Feature enhancements & bug fixes
Feature enhancements & bug fixes
Bug fix for card being saved even when box not checked
Updated user interface
Bug fixes and feature enhancements
Updated ASAP feature with bug fixes
Minor updates and performance improvements
Minor bug fixes and performance updates

Sarku Japan FAQ
Sarku Japan is available in regions other than the following restricted countries:
Honduras,Jordan,Myanmar,Namibia,Niger,St. Vincent & The Grenadines,Bhutan,Grenada,Barbados,St. Kitts and Nevis,South Korea,Moldova,United Arab Emirates,Armenia,Nigeria,Pakistan,Japan,Montserrat,Turkey,Uruguay,Congo, Democratic Republic,Switzerland,Kazakhstan,St. Lucia,Zimbabwe,Benin,Kenya,Romania,Venezuela,Estonia,Jamaica,Latvia,Germany,Indonesia,Morocco,Serbia,Solomon Islands,South Africa,Antigua And Barbuda,India,Gabon,Cayman Islands,Mongolia,Malta,Netherlands,Vietnam,Albania,Austria,Malawi,Nauru,Tunisia,Vanuatu,Angola,Cambodia,Sweden,Slovenia,Finland,Maldives,Mozambique,Oman,Taiwan,Yemen,Belize,United Kingdom,Macedonia,Mauritania,Swaziland,Dominica,Hungary,Lao Peoples Democratic Republic,Liberia,Slovakia,Bulgaria,Dominican Republic,Montenegro,Chad,Bosnia & Herzegovina,Lithuania,Cote Divoire,Algeria,Greece,Guatemala,Madagascar,Nepal,Botswana,Congo,Costa Rica,Portugal,Singapore,Sierra Leone,El Salvador,Afghanistan,Bolivia,Colombia,Gambia,Libya,Argentina,Bahrain,Brunei Darussalam,Australia,Bermuda,Kyrgyzstan,Kuwait,Mali,New Zealand,Turks and Caicos,Thailand,Iraq,Iceland,Trinidad and Tobago,Mexico,Rwanda,Suriname,Uganda,Burkina Faso,Sri Lanka,Peru,Papua New Guinea,Saudi Arabia,Hong Kong,Ireland,Philippines,Turkmenistan,Kosovo,China,Spain,Qatar,Senegal,Czech Republic,Paraguay,Israel,Panama,Brazil,Guyana,Ghana,Cyprus,Micronesia,Tonga,Tanzania,Ukraine,Uzbekistan,Zambia,Norway,Seychelles,Bahamas,Belarus,Cameroon,Ecuador,Fiji,France,Anguilla,Azerbaijan,Malaysia,Palau,Croatia,Luxembourg,Egypt,Macao,Nicaragua,Belgium,Chile,Mauritius,Sao Tome & Principe,Tajikistan,British Virgin Islands,Italy,Lebanon,Georgia,Guinea-bissau,Poland,Russia,Cape Verde,Denmark
Sarku Japan supports English
Check the following list to see the minimum requirements of Sarku Japan.
iPhone
Requires iOS 13.0 or later.
iPod touch
Requires iOS 13.0 or later.