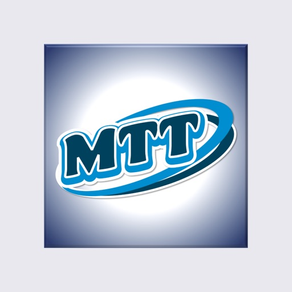 My Truckin' Mobile App
Cool Tech for Carriers/Brokers
26.0.9
for iPhone, iPod touch
My Truckin' Mobile App Screenshots
About My Truckin' Mobile App
Introducing My Truckin' Tech: Your Ultimate Mobile and Web Solution for trucking and brokerage companies!

Are you a carrier or broker looking to simplify your end-to-end operations? Look no further! MTT is the cutting-edge mobile app and web portal designed exclusively to reduce work for office workers, while improving the driver experience and retention for company drivers and owner operators. With its robust features and user-friendly interface, MTT will revolutionize the way you navigate, communicate, and stay ahead on your long-haul journeys, while delivering value to your bottom line.

Some Key Features of My Truckin' Tech:

POD and Documents Submission: With MTT, you can effortlessly capture and manage Proof of Delivery and other documents, ensuring your ability to bill your customers promptly upon delivery completion, and getting your drivers paid at record speed.

Customized Location information: Say goodbye to difficult to navigate shippers and receivers. MTT allow drivers to share information and office staff to assemble location specific information from all drivers into concise information that is delivered hands-free to all drivers when they get close to a site. Your drivers experience hassle-free site navigation and information which drives retention.

Detention Management: Drivers (and carriers and brokers) deserve their detention pay when shippers and receivers cause delays. MTT gives you all the evidence to prove and bill that detention, further driving retention. Save time, increase visibility, and maximize your earnings with our seamless detention module.

Location Rating and Analysis: Save time and maximize your earnings though the insights you will gain when your drivers rate and leave comments about each stop. These insights can be downloaded into a pdf and provide rational for shippers and receivers to improve driver's experiences at their locations. By giving your drivers a voice that is fed into our analytics engine, we give you the power to improve conditions and retention, charge a premium or even drop lanes that may be costing you more than you know.

News Feed: Connect and engage with your drivers like never before. The News Feed is the first thing the drivers see when they log into the app. It has never been easier to communicate, share files and links, and keep your drivers up to date with what is going on in your company.

Don't miss out on the revolution sweeping the trucking industry. Join us now and embark on a smarter, safer, and more profitable trucking journey!
What's New in the Latest Version 26.0.9
Last updated on Aug 7, 2023
Old Versions
Improvements directly from user feedback, including adding a copy button on the location button and the back button doesn't exit the app now. If you like it, great ratings are always appreciated!
Version History
Improvements directly from user feedback, including adding a copy button on the location button and the back button doesn't exit the app now. If you like it, great ratings are always appreciated!
MTT Release Notes (Version 26.0.2)

We are excited to announce the release of the latest version of our My Truckin' Mobile App! In this update, we have introduced several new features and enhancements to make your trucking experience even better. Here are the release notes:

New look and feel that organizes multiple stops giving drivers a new view of what carriers and brokers expect them to do. Merging of owner-operator / broker features with company driver / carrier features and much more.
- Simplified signup process for Owner Operators.
- UI Improvements
- Bug fixes
Minor update to the detention workflow to enhance the user experience.
Drivers, we heard you. In this version, we added Free User Sign up to the mobile app, and a ton of features to help you prove detention. Company drivers won't see much of a change outside of cosmetic updates. Other changes are performance and stability related.
This version of the app allows shipment tracking capabilities for carriers and the brokers they work with. When a carrier fulfills a shipment on behalf of a broker, the carrier's driver can elect to track the shipment. That tracking data and shipment documents collected via the mobile app are made available to the broker, shipper, receiver and carrier via MTT Web Portals. With Free User, Owner Operator and Company Driver account types, this version provides great flexibility for carriers and brokers.
BUG FIX :: The bottom menu has been re-aligned keeping in mind the home bar on iPhone X and above.
This release has replaced the menu screen with a brand-new News Feed similar to social networking apps. Each time you open the app, the latest posts will be right in front of your eyes. There are 4 types of posts:

• App news from MTT
• Industry news from MTT
• Posts from carriers to their company drivers
• Posts from carriers or brokers to owner operators who are linked to their firm
This version is a major release with a lot of changes. The entire UI has been revamped and the key features of main data screen in the previous version have been separated into individual screens. This allows us to provide our customers with the exact features that they need, while providing the user with more information and a cleaner UI.

Other key changes include:

- Broker and Owner Operator features. An owner operator can receive shipment information from multiple brokers or carriers.
- Dispatched Order Details allow the driver to see many attributes of shipments that have been assigned, without the need to going to in cab units.
- Location information can now be submitted by the drivers. Once the back office consolidates the comments into official location information, it will automatically be read out loud to the drivers when they get close to the site.
- Redesigned Ratings System. The new version has 5 categories of questions with convenient clickable answer options and a calculated overall rating.
- Safety document collection can now be submitted via the mobile device directly into a safety workflow.


Bug fixes:

- The bug resulting in multi-page documents causing the upload buttons to be shifted off the screen is fixed!!
In this version we have enhanced the document capture process. We have implemented a document edge detection, auto capture and cropping feature that will produce an image that only contains the document without background noise. We have also streamlined the capture process by removing a second screen for uploading individually or merge by automatically merging everything. This will speed up the process of capturing documents while producing a higher quality image for sharing with clients.
This version is mostly about rebranding under our new company, My Truckin' Tech! You will notice a new feature for forgot password right on the login screen. It says "I forgot my truckin' password", which is also a little bit of a play on words that we hope you have some fun with while you are submitting your truckin' paperwork through My Truckin' Mobile App.

Stay tuned, we have new features coming out very soon, starting with automatic document edge detection and cropping. With a little bit of care when capturing the images, this will make your BOL's look like actual forms!
- Completely revamped UI .
- For both receipts and documents, there is a preview window that allows the document to be viewed and pinch zoomed.
- Enhanced reimbursable receipts management to include a "card view" of the receipt with status and thumbnail views of the receipt.
- The same "card view" list has been added to the Artifax documents. - Shipments Ratings and Artifax, we have introduced the ability to attach multiple images to a single document that generate a multi-page PDF.
New features for managing reimbursable receipts! They are tied to the actual stops and feed the reimbursable receipts portal workflow for back office review.
Comments field was made as optional. Fixed bug with logo disappearing.
My Truckin' Mobile App FAQ
Check the following list to see the minimum requirements of My Truckin' Mobile App.
iPhone
Requires iOS 11.0 or later.
iPod touch
Requires iOS 11.0 or later.
My Truckin' Mobile App supports English
My Truckin' Mobile App Alternative