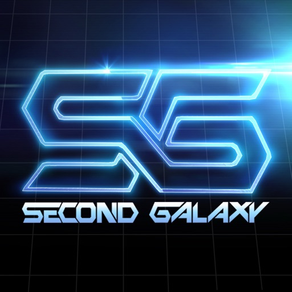 Second Galaxy
Open World MMO SciFi Adventure
Free
Offers In-App Purchases
1.9.7
for iPhone, iPad and more
Second Galaxy Screenshots
About Second Galaxy
Second Galaxy is an open world sci-fi game that combines RPG and SLG elements.

Explore a universe of 4,961 galaxies, where you can navigate hundreds of space ships across the stars to secure resources, team up to form alliances, trade freely on a global server, and engage in epic intergalactic battles with Commanders around the world.

The universe beckons, Commander. This sea of stars is now yours to conquer.

A Creative Vision of the Future
Three thousand years in the future, interstellar colonization has expanded to a realm known as the Second Galaxy. Five unique nations vie for dominance, and are set to change the face of history...

Fight for Rare Resources in 1,000-player Galactic Battles
Jump into huge colonial wars with players around the world. Secure the future of your alliance and corporation in glorious battle with up to a thousand players in simultaneous warfare, and compose a stunning legend all your own.

Diversified Interstellar Ship Design
These five nations have also developed radically different spaceships, due to the vast differences in their levels of science & technology, design, and military ambitions.

Astronomical & Hyperrealistic Game World
Through the latest technology, Second Galaxy's universe boasts a diameter of 1,000 light-years and contains 4,961 galaxies with countless features, such as planets, stars, space stations, and more.

Open World -- Random Events Shape Your Fate
In Second Galaxy, you can traverse wormholes and reach the depths of the universe to encounter unexpected random events. Each player's actions in the game world cause a "butterfly effect" on the cosmic ecology based on how they tackle these events.

Global Real-time Dynamic Trading
All interactions in the game occur in real time on a global server. Make real-time dynamic transactions through neutral trading planets or underground black markets, or engage in combat that directly leads to large-scale galactic warfare or cooperation!


Official Apple "Adventure Plan" Subscription Feature Description & Announcement

1. Subscription Price and Period
You can subscribe to the "Adventure Plan" in the game. The price is $2.99 and it lasts for 30 days.

2. Subscription Contents

Users can enjoy special privileges during the subscription period:
① Daily Restoration Chances +2;
② All Research Times -20%;
③ Trading Post Extra Sale Slots +6;
④ Production Time -50%;
⑤ Decryption Time -50%.

3. Auto-renewing Subscriptions
• The Apple App Store auto-renews subscriptions and payment is confirmed by your iTunes Account directly. Users will need to manually disable auto-renewal in their iTunes/Apple ID management settings. Charges will be made 24 hours before the end of each subscription period, and confirmed and paid via their iTunes Account. In order to cancel subscription, you need to disable auto-renewal at least 24 hours before the one month subscription ends. If you fail to cancel auto-renewal before that time, then subscription will be extended automatically.
• Payment will be charged to your iTunes Account upon confirmation of purchase
• Account will be charged for renewal within 24-hours prior to the end of the current period, and identify the cost of the renewal.

4. Unsubscribe
If you would like to cancel a subscription, please go to "Settings" on your iOS Device –> select "iTunes Store and App Store" –> tap on "Apple ID", and then select "View Apple ID" to get into your "Account Settings", then tap "Subscriptions" –> "Management", and select "Second Galaxy", then unsubscribe.

Terms of Service: http://secondgalaxy.zlongame.com/agreement.html
Privacy Policy: http://secondgalaxy.zlongame.com/privacy.html

Follow Us: https://www.facebook.com/secondgalaxy

For support please contact: secondgalaxy@zlongame.com
What's New in the Latest Version 1.9.7
Last updated on Oct 19, 2021
Old Versions
Version History
What's new:
1.High-reward quest probes, together with Emergency quests and extra rewards, to help players level up more quickly.
2.Redesigned Dispatch Quests to enable players to significantly shorten the duration of quests and boost rewards through Recruit development.
3.The linking of Licenses and Research in order to help players map out plans for gaming.
4.A new production queue to keep all production lines working around the clock.
5.A redesigned Academy system, with 3 switchable skill plans available for various use.
6.Semi-Auto-Combat as a new addition to Auto-Combat and Manual-Combat.
7.A new system for solar system development for players to increase rewards and defense levels of solar systems through building and upgrading relevant Corp facilities.
8.Corp Admins can give out bonuses to top contributors in their Corp through a new Corp Bonus feature.
What's new:
1. A brand new nation, the United Solar Systems of Hygara (USSH), along with a powerful fleet consisting of 30 newly designed ships.
2. A fully developed drone-based weapon system complete with drone bays, modules and implants as well as relevant skills and research items.
3. A fully developed armor-based defense system complete with repair systems, repair-bot projects, RES armor coatings, plating and implants, as well as relevant skills and research items
4. An entirely remade Development system that will allow players to dismantle ships, devices, components, implants and microchips to get materials for new development projects.
5. The stamina system, which is to be fully integrated into the basic gaming system, will allow players to enjoy various gameplay types without daily or weekly limits.
6. Rewards obtainable through PVE gameplay have been redesigned so that players may get items they want and significantly more resources.
7. Scanner quests have been redesigned to incorporate some Exploration quests and offer better quality Encrypted Caches.
8. With the removal of Regular Space, Wormholes will become treacherous battlefields where, in return, greater rewards can be obtained.
9. 'Smart Network: Sequential Evolution' and 'Deep Space Rescue: Stranded Whale' will be officially added to Special Ops.
10. Hundreds of avatars will be available for players to collect, allowing the character's image in the profile and chat channels to be changed.
11. Opening Ship & Corp Statistics while in space will allow players to get the statistics of ships and Corps according to Ally, Neutral and Foe in the current scene and share the statistics in chat channels.

Improvements:
1. Improved missile weapons will have increased flight speed, shortened damage delay and better visual effects.
2. Comprehensive enhancements have been made to laser, blaster and drone-based weapons based on their respective working environments.
3. The combat system has been augmented with device auto-activation, ship velocity limits and switchable combat modes for wingmen.
4. Players will be allowed to hide enemy targets in the first list of the Overview and all fleet members will be shown in a special color.
5. The Commander of a fleet will be allowed to conceal member info, and a Rally feature will be enabled for the fleet Navigator.
6. Corps will be able to trade sovereignty, while vulnerable solar systems will have their development level progressively reduced until they are taken over by Savages.
7. When a Corp declares a Sovereignty War against another Corp, a Corp War will also be initiated. A period of Peace will be granted when a Facility attack is beaten off.
8. The Executive Corp of an alliance will be able to align the diplomatic relations of the member Corps in line with its own.
9. Corps will be able to set a minimum admission rating, based on which new players will be prompted to join Corps with high levels of activity that are ready to accept new members. Players authorized to manage a Corp will be able to export donation records and member status lists.
10. The limit on players' donations to one another will be lifted and players authorized to approve compensation applications will be able to withhold certain items at their discretion.
11. Players will be able to view a weapon's Crit Rate, Crit DMG as well as a ship's Armor RES in the Ship Hangar, and quickly purchase required attachments when applying a new Config.
The version 1.7's update mainly includes:
1. Corporation Special Ops: This new multiplayer Corporation PvE mode requires you to undertake strategic operations, challenging Corporations across the server for a place in the rankings to obtain powerful rewards!
2. New Devices and Components: The Deep Dive Ranged Single-target Interference Device, Noether Charge Disintegrating Device, Anti-Cloaking Field, All-new Armor Resistance equipment, and other new devices and components and enhancement optimizations to allow for countless new loadout possibilities. With a range of new attributes to experiment with, the battlefields of Second Galaxy are changing like never before, and at a stunning rate!
3. NPC Purchase Plan: This new NPC Corporation Trade event will take place at irregular intervals. Trade with NPC Corporations to receive huge amounts of Gala!
4. Combat Support Features: With a newly-enhanced tactical view, newly-added combat stats, ammo and wingman replacement in space, and manual warp arrival distance configuration, combat and operational strategy in Second Galaxy is set to reach new levels of optimization, making it all the more fun to crush your enemies!
1. Alliance Fleets
Pilots can find fleets that have been broadcast to the Alliance Fleet list via the Alliance function and join them. In addition, members who are already in a fleet can easily publish their fleet link to their Corporation or Alliance chat channels using the share button, so that Alliance members who have not joined already can quickly find the fleet they're supposed to join;

2. Corp Purchase Upgrade
Upgrade the Corp Purchase function so that Corporations can purchase ships, weapons, ammo, and equipment from players across the server through the trading post. This will allow Corporations to set their own purchase prices, and at the same time, allow Corporations to purchase T3 materials;

3. Threat Analysis Display
Threat analysis system will display basic data including: Pilot Rating, Kills, Shot Down Value, Kill/Death Ratio, Historical Bounty Total, Bounty Hunter Ranking, Favorite Ship, Achievements, Titles, Medals, and Basic Corporation and Alliance Information,which will be enough to make an accurate assessment of the target's upgrade level, combat experience, basic combat style, and game progress;

4. Achievement System
All achievements will be divided into four tiers: Platinum, Gold, Silver, and Bronze. Some of them will offer special titles, and some will even be reserved exclusively for the first player to complete them. Every time a server-first achievement is completed, the player who completes it will be able to carve their name on the Path of Glory, and special rewards will be sent to every player on the server, as well as every new player who joins the game in the future, in their name;

5. Title System
Pilots's title will be shown in almost every interface in the game where your name is displayed, including chat channels, rankings, shot down reports, and the combat overview, among others, to show your own unique achievements to the world;

6. High-Level Exploration Quests
Launch a permanent event in the new version, enabling players to convert large quantities of basic encrypted data caches into new advanced encrypted data caches.
Added Japanese and Korean in the game.
1. Completely Change the Look of Your Ships: The modification system is completely overhauled through the new modification function! Ship modifications will be designed and manufactured according to the same protocol used when designing a brand-new ship. The whole ship model and coating will be replaced once modifications are applied, and ships will even gain special effects;
2. Exclusive equipment to be released: 10 kinds of T2 exclusive equipment including the Invisibility Field Stabilizer, Multispectral Distortion Signal Generator, Short Range Warp Localizer, Phase Shifting Nano-armor, Enhanced Energy Diagnosis Array, Overload Damage Enhancer, Extensive Shield Recharger, Emergency Energy Infuser, Extensive Ion Thruster, and Annihilation Signal Generator;
3. Entire recruit system has been redesigned: Device Enhancement, Ship Specialty Optimization, Recruit Expertise Optimization, and Recruit Work Groups.
4. Adjustment of Hit Rate system: Make the influence of precision, tracking speed, volume amplification, equipment resistances, and other factors in the game smoother, and to make ship resistance relationships clearer. This optimization is expected to solve known imbalance issues between weapons, ship types, and capital ships and conventional ships.
1. Optimized Cloaking Rules;
2. Optimized the security status of all Level 1 reputation quest areas;
3. Limited-time Packs: Return From Deep Space - Avalon, Rekindled Spirits and The Power of Unity.
More information, please see Notices in-game.
Celebrating Second Galaxy's Halloween!

1. You'll have a chance of encountering the special Night of Pirates level in wormhole chaotic space. Challenge these special levels, and you can get a large number of Dirty Pirate Ornament and Acrid Pirate Drink event items in addition to the normal stage rewards. These items can be redeemed in the event store for various levels of ship cases, resources, devices, weapons and more!
2. Completing missions in wormholes in non-chaotic spaces, or completing any optional missions, will also grant Basic Pirate Loot Cases of different levels;
3. A special total daily login reward will also be available during the Halloween period;
4. Special Kasandara-class ship pack will be on sale for a limited-time only, containing exclusive ultra-value goodies you won't want to miss!


Version 1.4: Major Update, Major Changes

1. Introducing a total of five new languages to the game, German, French, Italian, Russian, and Spanish, and optimizing the display of existing functions;
2. A comprehensive upgrade of the implant development system;
3. Spatial rejection rules have been updated, and hundreds of new sovereignty systems have opened up in the Terminals region;
4. The Corporation system has been updated, with an optimized social system, and greatly improved sign-in rewards;
Compared to the previous version, combat and flight operations in version 1.4 will be more convenient and user-friendly, PVE combat values will be more balanced, and PvP and Corporation battles will be more intense and exciting.

A new galaxy awaits!
1. The following languages have been added to the game: Russian, German, French, Italian, and Spanish.
2. Fixed a number of known bugs to optimize the gameplay experience.
1. Russian, German, French, Italian and Spanish languages are now fully supported.
2. Fixed several bugs and improved overall stability.
1. Optimized the game to improve the performance of various devices in different network environments.
2. English, Simplified Chinese, and Traditional Chinese languages are now fully supported.
3. Fixed several bugs and improved overall stability.
1. Improved gaming performance on various devices under different networking status.
2. English, Traditional Chinese and Simplified supported.
3. Fixed several bugs, improved the fluency.
1. Improved gaming performance on various devices under different networking status.
2. English, Traditional Chinese and Simplified supported.
3. Fixed several bugs, improved the fluency.
1. Improved gaming performance on various devices under different networking status.
2. Added game content in English, Traditional Chinese, also optimized adapting previews and screenshots.
2. English, Traditional Chinese supported.
3. Fixed several bugs, improved the fluency.

Tip:
Some devices may experience longer loading time in different network environments. Please be patient, or try to switch to another network.
Second Galaxy FAQ
Check the following list to see the minimum requirements of Second Galaxy.
iPhone
Requires iOS 10.0 or later.
iPad
Requires iPadOS 10.0 or later.
iPod touch
Requires iOS 10.0 or later.
Second Galaxy supports English, French, German, Italian, Russian, Simplified Chinese, Spanish, Traditional Chinese
Second Galaxy contains in-app purchases. Please check the pricing plan as below:
Pride of Titan: Ninlil
$0.99
Classic Upgrade Pack
$0.99
Special Recruitment_I
$0.99
Related Videos
Latest introduction video of Second Galaxy on iPhone
Second Galaxy Alternative