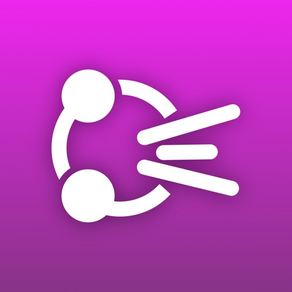 Voice Reader Speech Central
Text to audio: book, PDF, web
Free
Offers In-App Purchases
13.4.2
for iPhone, iPad and more
Voice Reader Speech Central Screenshots
About Voice Reader Speech Central
Feature set that exceeds the competition, no subscription for the premium tier with the free tier that can be customised to be limited by the quantity or by the quality, that is the reason why you'll love Speech Central. Here are just some of our outstanding features:

◦ The best PDF support in text to speech apps - your reading flow will not be interrupted by footers, headers, footnotes, in text citations and long web links as they are detected by the advanced artificial intelligence in most cases. No other app has all those features. Even the scanned PDF documents are imported with titles recognised.

◦ The best web support in text to speech apps - for the first time you can listen everything as both articles and headlines (including RSS feeds) are supported. Articles can be added from the headlines page for fully uninterrupted flow or from Safari. And you can send articles from the desktop browser with the Pocket extension.

◦ The widest support for documents/office and e-book formats.

◦ Knowledge and text annotation tools built-in.

◦ Import the text from the physical books with the camera.

◦ The widest choice of options to customize the voice, appearance and various other parameters.

◦ Sync playlist items across Apple devices including with the macOS app and the current position in the text.

◦ Apple Watch app that can play the content independently of the main app.

◦ Export the text with annotations to .docx format

◦ Functions of audio buttons can be customized for high productivity and accessibility. The widest selection of tools to control the speed and browse the text that is read aloud.

◦ The app can be used with dozens of languages that have text-to-speech support on the device with automatic language detection from the content.

◦ Export the text to the audio file.

◦ The best in class accessibility. The only app that supports Dynamic Type accessibility sizes in the interface. It is completely free when used with VoiceOver and tested to be accessible by legally blind users.

◦ Your data stays truly private, we collect only analytics data with no identifiable reference to the user or imported content even when the syncing is enabled.

◦ Track the Mindfulness time in the Health app

The app is installed on over 250,000 devices and with consistent ratings above 4 stars Speech Central it is one of the leading global text-to-speech brands. It was nominated for the best iOS accessible app in 2020 and 2017 on AppleVis, the leading authority in the field of accessibility on Apple devices.

By moving your reading activities to commuting, walking, running, doing the housework or another activity you can save an hour each day. You'll also save eyes for better things while having your battery and data plan last significantly longer. Keeping the screen off grants that you won't get into the internet addiction and waste your time on unwanted things, and thus it can also help people with ADHD.

The app can be used as an assistive technology and helper for people with visual impairments (eyesight problems) and disabilities like dyslexia.

Supported document types are: PDF (including scanned documents), Microsoft Word (.docx), Microsoft PowerPoint (.pptx), OpenOffice/LibreOffice (.odt, .odp), .html, .mhtml, .webarchive, .txt, .rtf, supported ebook formats are .epub, DAISY and .fb2 and emails in .eml format.

Get the app now and enjoy the most convenient text to audio!

Notes:
- The free version has a daily limitation in the number of articles that you can add to it which is removed by purchasing the Pro add-on.
- Some features are available only on the latest version of the operating system.
- The license is valid only for this operating system. Other operating systems have separate licenses.
- DRM protected books (e.g. Kindle books) are locked to their respective vendor apps and cannot be imported into the app.
- For languages other than English the support is provided using the auto-translation tools
What's New in the Latest Version 13.4.2
Last updated on May 30, 2023
Old Versions
Version History
Ability to pick between the limited quality and limited quality in the free tier
New default value for the background contrast
Improved translations in some localisations
Small improvements and bug fixes.
Option to disable fallback to Apple voices in the conditions of poor data connection when using Microsoft neural voices.
New Apple Watch app written from the scratch. More capable than most of the desktop apps and by far the most capable Apple Watch app for text-to-speech!
- Microsoft Neural voices
- iPad split screen support
- Recording the activity as Mindfulness Session in the Health app
- Paste button without the prompt iOS 16
- Apple Watch app is completely rewritten and available as a separate download in the Store (no additional charges) - the apps are going through review so it is possible that it might not be available immediately.

- Pasting from the menu without warning on iOS 16.
- When in low power mode app strips or slows down some none essential tasks to preserve battery longer.
- The start of the effort to minimise the energy use in the app to support green economy and our societies in time of energy crisis. And your battery will last longer!
Improvements in syncing efficiency and reliability
Improved voice multi-select mode
Speech Central delivers in this update more than any other text-to-speech app has delivered in this whole year!
- New voice picker:
- pick multiple voices so that reader can switch among them
- filter voices list
- visual indicators for voice gender, voice quality and voice locale
- Dynamic Type support for very large fonts
- View images on the full screen
- Preview of the current PDF page on the lock screen
- High-res images on the lock screen
- New grey style for the sentence highlighter
- Remembering the voice speed per language
Mode to listen to annotated text
- showing images from web sites
- browse pages by swiping over pages button with VoiceOver
- images in epub and docx files
- showing page numbers for PDF and scanned documents
- preview of sentence highlight setting
- voice preview for settings
- enhanced visual mode for settings when playing
New default commands for previous and next buttons
- Bigger font sizes allowed
- Player toolbar redesigned
- Displaying the original documents for scanned documents
- further polish
- fixed crash on devices with the home button
- displaying remaining time - new design that minimize attention friction
- implicit titles extraction from various file formats
- option to skip in-text citation
New design for play/pause button
- pickers are more accessible
- numerical indications of speed in the Settings
Voice Reader Speech Central FAQ
Check the following list to see the minimum requirements of Voice Reader Speech Central.
iPhone
Requires iOS 14.0 or later.
iPad
Requires iPadOS 14.0 or later.
Apple TV
Requires tvOS 9.0 or later.
Apple Watch
Requires watchOS 8.0 or later.
iPod touch
Requires iOS 14.0 or later.
Voice Reader Speech Central supports English, Arabic, Dutch, French, German, Hindi, Italian, Japanese, Korean, Portuguese, Simplified Chinese, Spanish, Traditional Chinese
Voice Reader Speech Central contains in-app purchases. Please check the pricing plan as below:
Voice Reader Speech Central Alternative