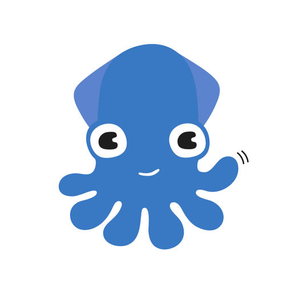 SquidHub: Organize projects
Collaborate: Todo, Docs & Chat
SquidHub: Organize projects Screenshots
About SquidHub: Organize projects
SquidHub is a simple, flexible and productive team collaboration and project management app for working together on anything with anyone.

Organize your todos, files and communication for your entire project in a single intuitive app.

Great overview across teams - and within your team
• Create groups for the projects you are working on
• Invite friends and co-workers to collaborate on projects
• Create groups for your personal todos

Simple and powerful todo-list (for individual and team use)
• Add todos
• Set deadlines and reminders
• Add assignees
• Create subtasks
• Organize todos in sub-sections
• Set todos to repeat
• ... and more

Overview of your SquidHub todos meetings (available on web)
• Create meetings
• Synchronize your SquidHub meetings to Google Calendar (available from web)

Easy organization of your files, photos and links
• Upload files and photos
• Add links to important webpages
• Create Google Docs directly from SquidHub (available from web)

Stay on top of what's happening!
• Chat with your team
• Define which notifications you want to receive for each individual group
• Search instantly across todos, files and messages (available from web)

All your content at SquidHub is synced between your phone and your computer.

We hope you like it :)
What's New in the Latest Version 6.5.9
Last updated on Dec 9, 2018
Old Versions
Minor bug fixes.

Have a productive workday,
The SquidHub Team
Version History
Minor bug fixes.

Have a productive workday,
The SquidHub Team
You can now control who can do what inside each group (with the new permission model available in the Premium Plan):
- Let Admins change group settings and invite new team members
- Let Members contribute to content in all 3 boards
- Ensure that Guests can't accidentally delete or edit todos

Smaller bug fixes.

Have a productive workday,
The SquidHub Team
Another small but important update :)

Some users have experienced that the app has been freezing when opening groups with many messages.
This update fixes this issue, so you can immediately read new messages and respond to them.

Happy Collaboration,
The SquidHub Team
Welcome a couple of improvements to the app:
- You can now remove categories from a todo
- When selecting categories for a todo these are now sorted alphabetically
- We resolved a couple of bugs

We're always around and love hearing from you.
If you have any questions, feedback or suggestions let us know at support@squidhub.com.

Happy collaboration :)
The SquidHub Team
Bug fixes:
- The notification sound is now back when receiving push notifications. Exactly as it is supposed to be... unless you have turned it off of course :)
- Selecting a profile image will now only be shown if you haven't already selected a profile image. Please add your profile picture - we're sure your co-workers will love it.
- Resolved a couple of minor bugs
If you forgot your password you can now reset it directly from the app.
We also fixed a few bugs - so please upgrade to get the best experience.

Happy collaboration!
The SquidHub Team
Google Docs, Sheets and Slides can now be clearly differentiated (from other links) when attached to a todo.

We squeezed a bug for iPhoneX users where only half of the last line was shown when writing multiple lines in the team messenger. You should of course be able to see the entire message - which you indeed can now!

Happy collaboration!
The SquidHub Team
This update brings you a nice little feature: the ability to undo completion of a todo (if you accidentally marked an incorrect todo as complete).

We've also optimized the layout for iPhone X
- Fixed a bug where some iPhone X users didn't see the entire input field in the team messenger.
- Fixed a bug where the close icon were only partly shown when previewing images in the message board.

Happy collaboration!
The SquidHub Team
This update brings a neat and valuable little feature: when you send off a messages to the team, you can now see if it has been delivered successfully.

Happy collaboration!
The SquidHub Team
Important update! Please upgrade to this version of the SquidHub app to continue receiving push notifications.

Get a better performance and user experience with the updates to the push notification system:
- Easily follow up on messages and updates across groups. Notifications will remain in the notification center until you've followed them to make it easier to stay on top of things.
- Push notifications now also displays which group the message is coming from to provide even more clarity.

Sharing images with your team in the messenger has also been improved. And we fixed a bug where text entered before selecting an image was cleared. You can now write a message without worrying about it being cleared if you want to send along a photo.

Finally, this version checks for new important updates to the app, so you don't have to think about it.

Happy Collaboration!
The SquidHub Team
We've been optimizing the SquidHub app to give you a smooth experience on iOS11.

Happy Collaboration :)
The SquidHub Team
Update to the Share functionality from Safari.
Turn websites instantly into todos in SquidHub for later follow-up.
Buckle up, because we just added a real boost to the SquidHub app.
Save your favorite content across the web through the "Share to" option from Safari. It comes in real handy when you stumble across a great article you'd like to put on your todo/reading list for later.

This update also brings the powerful ability of opening Google Docs, Sheets and Slides in their respective apps directly from SquidHub, readily available for editing.

And we've improved the experience when adding subtasks along with squeezing a few bugs.

We hope you like it!
The SquidHub Team
Fix of push notification issues.
Our app got a facelift. Not only that, we've also squeezed in a number of improvements to make your SquidHub experience more seamless than ever.

- Subtasks are now shown in the calendar
- Multiple improvements to the message board
- Google Doc and Google Slide icons shown in the files board
- Need to upgrade to a newer version to ensure a smooth operation? Don't worry, the app checks this for you now
- Check for proper internet connection

We hope you enjoy it :)
A nice little release with improvements to the todo list and message board.

We hope you'll like it :)
The SquidHub Team
Subtasks are here! It comes with all the goodies that you're used to from ordinary todos:
- Deadline
- Reminders
- Assignees
- Notes
- And attachments

From the todo board you can immediately see how many subtasks have been completed along with the total number of subtasks.
As soon as you have completed all subtasks, you can complete the parent todo.

When you complete a repeating parent todo, all subtasks will be reset to "Uncomplete" and the parent todo will be updated with the next logical date.

We really hope you enjoy this update :)
The SquidHub Team
Do you have tasks that you need to complete over-and-over again?
On a daily, weekly or monthly basis?
Then this upgrade is for you :)

When you complete a repeating task, the next task will automatically be created.
Repeating tasks are of course shown in both the todo list and in the calendar.

IMPORTANT: Please upgrade to this version to ensure a smooth experience.
We've made some major updates and you may experience crashes if you don't upgrade to the latest version.

Finally, thanks to everybody in the community for the massive request for repeating todos (and other features).
We really appreciate your feedback.

We hope you like it :)
The SquidHub Team
We're really excited to deliver the calendar to you!
Simply swipe left (from the group list) and you'll see all todos with deadlines.

Thanks for the massive demand and request for the calendar. We hope you like it :)
This update includes important updates of the push notification system along with a few UI updates.

Happy Collaboration :)
An important yet sweet little upgrade which fixes a few reported issues.

We hope you like it :)
Direct messages is here!

Swipe to access Direct Messages - it's that simple.
Direct messages let you send private one-on-one messages to your colleagues or friends. Messages which may not be relevant for the entire team.

We've also squeezed a few bugs and included tweaks and improvements across the app.

We hope you like it :)
We're giving you an early Christmas present to make your SquidHub experience smoother:
- The chat has been improved significantly
- We've squeezed a number of bugs (and crashes)

We hope you'll enjoy it!

Merry Christmas from the SquidHub Team
Writing long messages?
Then you may have experienced that you could'nt see the text on the last line of your messages. That is now fixed, so you can write as long messages as you fancy ;)

We've also done some improvements under the hood to ensure you get an even better experience.

We hope you like it :)
A sweet little update which includes fixes to a few bugs.
When you want to attach a file to a todo you can now also search through all your uploaded files.

We hope you like it :)
The SquidHub team
SquidHub: Organize projects FAQ
Check the following list to see the minimum requirements of SquidHub: Organize projects.
SquidHub: Organize projects supports English, Swedish
SquidHub: Organize projects Alternative