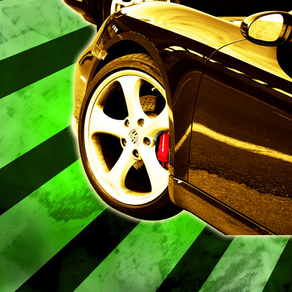 Street Racing Car Screenshots
About Street Racing Car
For entertainment purposes only

**Make sure your sound is on**

Intuitively use the device's accelerometer controls to start, rev up, and idle your own imaginary car. It's so easy to use, even adults can be in on the fun of driving your own car around.

TWIST TO START AND REV UP YOUR CAR
Give your device a key twist to start up your imaginary car when you first open the app, then rev it by holding the device just like a real handle and twisting it towards the floor.

GO FASTER AND HEAR YOUR CAR RUNNING
While holding your device horizontally like a car handle, twist from the direction of less engine sounds to more throttle by twisting the device slowly rather than quickly as done above for a rev sound.

FEEL THE VIBRATIONS OF YOUR DEVICE CAR
When you rev your imaginary car, you'll smile for joy as you feel the vibrations from your device car shaking in your hand. With a bit more imagination, you'll feel the sun on your back and the endless road passing by.

Show off to other's the special talents of your device's accelerometers!

INSTRUCTIONS - HOW TO USE:
First, make sure that the ringer is not set to vibrate only, otherwise the sounds will not be heard. iPod Touch users don't have to worry about this.

1. Rest the device sideways in your palm with the screen side up. You also can hold it between your fingers, as if holding the handle bar of a real car. The direction is important, if the device feels awkwardly large to wrap your hand around, then it's not the right direction.

2. Shake the device and you'll hear the ignition start.

3. Then, if you're holding it flat in your palm, you'll hear the car idle, turn it SLOWLY towards you, as if beckoning someone to come to you with your hand and you'll hear the car's 3 different speeds. Turning it faster will just switch the speeds quickly and it'll sound all weird.

4. To rev the car, hold it flat and relaxed again, then rotate your hand towards the ground and back quickly (opposite direction as above), if you do it right, you'll hear the car rev. You also can get continuous revving by holding it leaning towards the ground.

Download today and play now!
What's New in the Latest Version 1.4
Last updated on Sep 17, 2016
Old Versions
Street Racing Car FAQ
Check the following list to see the minimum requirements of Street Racing Car.
Street Racing Car supports English
Street Racing Car Alternative