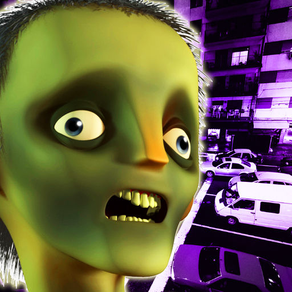 Zombie Sword Fight - Live Action Game!
Zombie Sword Fight - Live Action Game! Screenshots
About Zombie Sword Fight - Live Action Game!
For entertainment purposes only!

Battle zombies, bats and rats in an all out auditory experience using sound and your device as your sword. Swing and stab to kill them all before becoming infected yourself! It's an interactive audio game experience, unlike any normal game you've played!

Kill 15 zombies in a row for a coveted Zombie Killing Spree award along with a special bonus like a limited shotgun, flare, or bomb.

SHOTGUN FIESTA!
Shoot one zombie with a shotgun and every zombie on that side is taken out in one shot. Talk about power, use it wisely though, it's limited to 7 shots before being returned to your sword.

LIGHT THE DARKNESS!
Can't defend the zombies and need a break from the zombieriffic horror? If you win the flare bonus, just shake your device to ignite a lifesaving flare which scares off all zombies for a short while... giving your thumbs the needed break from your amazing sword action.

BLOW THEM UP!
Being overtaken by two rats, a bat that won't leave you alone, and another pizza hungry zombie? If you have the bomb bonus after a killing spree, just shake your device to light the fuse on a bomb that does just what bombs do. Kill all zombies.

BONUS Save One Dagger Mode
Like a challenge? How about a really hard challenge? Try Save One Dagger mode to get 20 daggers, and nothing else to defend yourself for however long as possible. Reach a Zombie Killing Spree and you get 15 more, but caution, it takes 15 direct hits to get to the next spree... so every dagger counts and the zombies get more and more hungry as the game goes on.

Lastly, the most important tip:
PLAY IN COMPLETE DARKNESS WITH SOUND MAXED! You'll definitely have sweet dreams after that. :)

We recommend downloading and installing the application through iTunes for a perfect installation.

Download today and play now!
What's New in the Latest Version 1.6
Last updated on Jan 14, 2017
Zombie Sword Fight - Live Action Game! FAQ
Click
here
to learn how to download Zombie Sword Fight - Live Action Game! in restricted country or region.
Check the following list to see the minimum requirements of Zombie Sword Fight - Live Action Game!.
Zombie Sword Fight - Live Action Game! supports English
Zombie Sword Fight - Live Action Game! Alternative