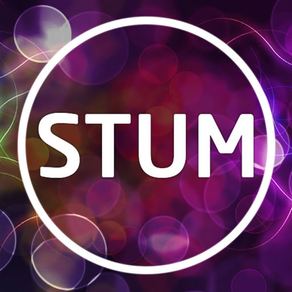 STUM - Global Rhythm Game
STUM - Global Rhythm Game Screenshots
About STUM - Global Rhythm Game
We present to you a new rhythm game that you can enjoy with users from all over the world.
STUM is a rhythm game that is played by tapping the screen at the correct rhythm.
You can play alone or compete with other online players in real-time matches.
With high-quality music of various genres and stunning visuals, STUM will provide players with the best rhythm experience.

▶ Two Thumbs Are All You Need
- Simple interface and gameplay
- Stylish notes optimized for maximized hit feel
- Various note patterns for everyone to enjoy; from beginners to rhythm game maniacs
- More than 50 music of various genres (Music will be added consistently)

▶ Real-Time Online Matches
- Battle with players worldwide through the real-time matching system
- It's not a pretended online match. A new type of fight mode where players can attack, interrupt, and defend against each other
- Exciting real-time battles where you can use various stones with flashy graphic effects

▶ The Fun of Competing
- Take on the challenge for the pride of yourself and your country
- A real-time ranking system where you can compare records with players worldwide
- Battle rankings and national rankings through online battles

▶ A New Rhythm Game Where You Can Attack and Interrupt Your Opponents
- Offensive stones that come with flashy effects like meteors, blizzard, lightning, and also various attributes
- Interruptive stones with various effects such as dazzling your opponents' eyes or shaking their screen
- Defensive stones to refill your HP and defend against attacks
- Create your unique stones with 14 main skills and 14 supportive attributes

▶ Various Contents with No Room for Boredom
- Diverse daily rewards just for logging in
- Campaign Mode where you can meet all the music in advance for free
- A space where master players will be distinguished through individual score records. Single Mode where you will feel like you are playing with a high ranker.
- Battle Mode where you will compete with players worldwide through a real-time matching system
- Mission Mode that consists of over 90 various playable stages
- Replay Mode where you can watch the gameplays of high-ranking players
- Festival Events where various forms of the main contests and all kinds of rewards will be provided regularly

◆◆ Recommended Specifications ◆◆
- Headphones are recommended for the best experience.
- Gameplay will be smoother if you download all the music in advance.
(Game Options > Settings > Music Data Download)
- Play with minimized sound sync error for the best hit feel


Official Website : http://www.stum.com/

ⓒ DOTSOFT Inc. All rights reserved.
What's New in the Latest Version 1.1.2
Last updated on Sep 23, 2017
Old Versions
- Fixed screen rotation bug on iOS 11.
- Small bug fixes.
Version History
- Fixed screen rotation bug on iOS 11.
- Small bug fixes.
- 4 new music added !!
- Small bug fixes.
▶Language Update
- Spanish, Indonesian, Vietnamese, Thai
- Level reward added.
- Grade reward added.
- Small bug fixes.
- Russian font bug fixed.
- HP Gage bug fixed in Battle mode.
- Small bug fixed.
- Add of quick join function on the battle match.
- Correction of bug on a chatting list.
- Correction of bug on a friends list.
- Language Update : Japanese, Chinese (simplified), Chinese (traditional) and Russian
- Small bug fixed !
- Sound Sync fixed.
- Friend Match bug fixed.
- Facebook login bug fixed.
- Campaign mode completion condition relaxed.
- iPad Screen letterbox bug fixed.
- Small bugs fixed!
STUM - Global Rhythm Game FAQ
Check the following list to see the minimum requirements of STUM - Global Rhythm Game.
STUM - Global Rhythm Game supports English
STUM - Global Rhythm Game Alternative