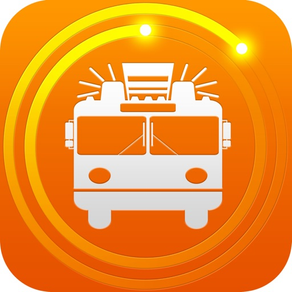 Taiwan Bus
1.70.0
for iPhone, iPod touch
About Taiwan Bus
Taiwan bus tracker, providing bus estimation time, nearby stops and related routes.

Please transfer to download BusTracker Taiwan here:
https://itunes.apple.com/tw/app/%E5%8F%B0%E7%81%A3%E7%AD%89%E5%85%AC%E8%BB%8A/id718656074?mt=8
What's New in the Latest Version 1.70.0
Last updated on May 31, 2023
Old Versions
只要每天幫種子澆水,邀您一起守護台灣森林、減碳愛地球。
- 持續功能優化提高穩定度
- 修復小蟲
Version History
只要每天幫種子澆水,邀您一起守護台灣森林、減碳愛地球。
- 持續功能優化提高穩定度
- 修復小蟲
只要每天幫種子澆水,邀您一起守護台灣森林、減碳愛地球。
- 持續功能優化提高穩定度
- 修復小蟲

只要每天幫種子澆水,邀您一起守護台灣森林、減碳愛地球。
- 持續功能優化提高穩定度
- 修復小蟲

只要每天幫種子澆水,邀您一起守護台灣森林、減碳愛地球。
- 公車動態頁、經過此站牌路線、常用站牌新增路線規劃功能
- 持續功能優化提高穩定度
- 修復小蟲
只要每天幫種子澆水,邀您一起守護台灣森林、減碳愛地球。
- 持續功能優化提高穩定度
- 修復小蟲

只要每天幫種子澆水,邀您一起守護台灣森林、減碳愛地球。
- 持續功能優化提高穩定度
- 修復小蟲
只要每天幫種子澆水,邀您一起守護台灣森林、減碳愛地球。
- 持續功能優化提高穩定度
- 修復小蟲

只要每天幫種子澆水,邀您一起守護台灣森林、減碳愛地球。
- 修復常用站牌消失的問題

只要每天幫種子澆水,邀您一起守護台灣森林、減碳愛地球。
- 持續功能優化提高穩定度
- 修復小蟲

只要每天幫種子澆水,邀您一起守護台灣森林、減碳愛地球。
- 新增機場捷運每日時刻表入口
- 持續功能優化提高穩定度
- 修復小蟲

只要每天幫種子澆水,邀您一起守護台灣森林、減碳愛地球。
- 持續功能優化提高穩定度
- 修復小蟲

只要每天幫種子澆水,邀您一起守護台灣森林、減碳愛地球。
- 功能優化
- 修復小蟲
只要每天幫種子澆水,邀您一起守護台灣森林、減碳愛地球。
- 功能優化
- 修復小蟲

只要每天幫種子澆水,邀您一起守護台灣森林、減碳愛地球。
- 種樹任務:植栽趴踢新登場囉
- 修復小蟲

只要每天幫種子澆水,邀您一起守護台灣森林、減碳愛地球。
- 種樹任務:植栽趴踢新登場囉
- 修復小蟲


只要每天幫種子澆水,邀您一起守護台灣森林、減碳愛地球。
- Podcast新增搜尋功能:現在可以直接搜尋想要聽的節目囉
- 公車追蹤可以直接點選前往公車路線
- 優化高鐵&台鐵車站排列順序
- 修復小蟲
只要每天幫種子澆水,邀您一起守護台灣森林、減碳愛地球。
- 常用站牌改版囉!更方便使用者編輯群組站牌、管理群組、重新命名等多項功能。
- 優化功能
- 修復小蟲

只要每天幫種子澆水,邀您一起守護台灣森林、減碳愛地球。
- 常用站牌改牌囉!更方便使用者編輯群組站牌、管理群組、重新命名等多項功能。
- 優化功能
- 修復小蟲
只要每天幫種子澆水,邀您一起守護台灣森林、減碳愛地球。
- 粉絲通推播上線囉!可以隨時掌握粉絲通好友的動態訊息。
- 修復小蟲
- 優化功能

- 新上線"Yahoo粉絲通"功能,吃喝玩樂各種好康應有盡有
- Bugfix
- 新上線"Yahoo粉絲通"功能,吃喝玩樂各種好康應有盡有
- Bugfix

- 新上線"Yahoo粉絲通"功能,吃喝玩樂各種好康應有盡有
- 優化功能
Taiwan Bus FAQ
Taiwan Bus is available in regions other than the following restricted countries:
Japan,China
Taiwan Bus supports English, Arabic, Bengali, Bulgarian, Catalan, Croatian, Czech, Danish, Dutch, Estonian, Filipino, Finnish, French, German, Greek, Gujarati, Hebrew, Hindi, Hungarian, Indonesian, Irish, Italian, Japanese, Kannada, Korean, Latvian, Lithuanian, Malay, Malayalam, Marathi, Norwegian Bokmål, Polish, Portuguese, Romanian, Russian, Serbian, Simplified Chinese, Slovak, Slovenian, Spanish, Swedish, Tamil, Telugu, Thai, Traditional Chinese, Turkish, Ukrainian, Urdu, Vietnamese
Check the following list to see the minimum requirements of Taiwan Bus.
iPhone
Requires iOS 15.0 or later.
iPod touch
Requires iOS 15.0 or later.