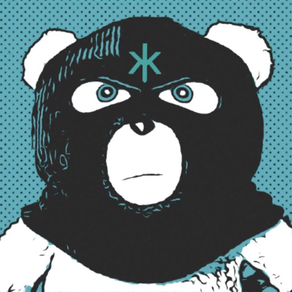 unmemory
A text based escape room game
$6.99
1.08
for iPhone, iPad and more
About unmemory
unmemory is a crafted combination of a thrilling story and puzzle games, an escape room inside an interactive novel about a girl gang and a broken mind. Will you solve the mystery?

Mobile Game of the Year, Stuff Awards; Best Text-Based Game, PocketGamer Best iPad Game 2020, Tech Radar, Best Mobile Game 2020, MacWorld; Best Narrative and Best Mobile Game 2020, Valencia Indie Summit; Best Mobile Game and Best IDea, DeVuego Awards 2020

You have to find your girlfriend's murderer, but you brain is damaged and you cannot make new memories. Using notes, pictures, and recorded messages you will have to solve the mystery and maybe, just maybe, discover an uncomfortable truth in this crime story set in the 90s.

Main features:
- Text is the gameplay, a cool and innovative mix of interactive reading, story, and escape room puzzles.
- Details have been carefully crafted, from the editorial design to the sophisticated photographs.
- An immersive storytelling format that broadens the view of what games (and books) could be.
- Full of 90s references to noir thrillers, graphic adventures, or iconic devices.
- Themes: Memories, culture jamming, art pranks, empowered women and LGTBI.


MOBILE GAME OF THE YEAR. Stuff Gadget Awards 2020.
This is a stylish and smart take on a now-established genre, and from the second you hear a distant phone ringing, realize you spotted one earlier and frantically scroll back up the screen to answer it, you'll be smitten.

IGN
An "Escape Book" that is sure to delight fans of the genre. Engaging, interactive, and with lots of narrative details that will make you spend several hours on your screen. 8/10

BEST TEXT-BASED GAME. PocketGamer.
Unmemory is the best text-based game I have played to date. It can be read as a storybook or played as a game.

BEST MOBILE GAMES OF 2020. Metro.
Dropping you straight into the action, Unmemory's captivating blend of puzzles and mystery uses every aspect of your phone, from touch to motion to sound and visuals, making it – ironically – a singularly memorable experience.  8/10

BEST iPad GAMES 2020. Tech Radar.
It's rare to see truly fresh games on iPad, but unmemory manages to thrill and intrigue in equal measure, doing clever things with narratives, adventures, and puzzling.

THE TEN BEST MOBILE GAMES 2020. Der Standard.
"Unmemory" has less to do with the rather dusty "interactive fiction" than with clever puzzle games like "Device 6" or even the logic puzzle "Return of the Obra Dinn". Exciting and extremely stylish.
What's New in the Latest Version 1.08
Last updated on Jul 6, 2021
Old Versions
This major update adds an original soundtrack to every chapter for the first time and fixes some general bugs.
Version History
This major update adds an original soundtrack to every chapter for the first time and fixes some general bugs.
Fixed portuguese language
Added a rating pop-up
unmemory FAQ
unmemory is available in regions other than the following restricted countries:
China,South Korea,Japan,Afghanistan
unmemory supports English, French, German, Portuguese, Russian, Simplified Chinese, Spanish
Check the following list to see the minimum requirements of unmemory.
iPhone
Requires iOS 13.0 or later.
iPad
Requires iPadOS 13.0 or later.
Mac
Requires macOS 10.15.0 or later.
iPod touch
Requires iOS 13.0 or later.
Related Videos
Latest introduction video of unmemory on iPhone
Latest introduction video of unmemory on iPhone
Latest introduction video of unmemory on iPhone