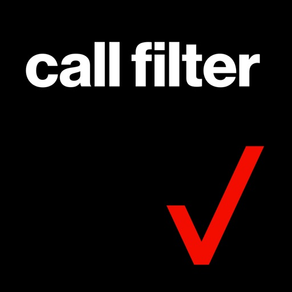 Verizon Call Filter
Put an end to mystery calls
14.7
for iPhone, iPod touch
Verizon Call Filter Screenshots
About Verizon Call Filter
Verizon Call Filter takes the guesswork out of answering your phone, with features that screen and automatically block incoming spam calls.

With Call Filter, you can:

• Identify suspected spam calls with alerts.
• Automatically block spam based on their risk level and send them to voicemail (Call Filter automatically blocks high-risk callers).
• Report phone numbers as spam.
• Use filters to block other unwanted callers, such as robocalls.
• Adjust spam filter settings any time.

For added security, upgrade to Call Filter Plus*. Features such as Caller ID and blocking entire area codes give you even more control over incoming calls.

Download Verizon Call Filter and start answering calls with confidence.

*Eligible customers get a 15-day trial for Call Filter Plus. At the end of the trial, customers can choose to subscribe to Call Filter Plus at $3.99 per month, per line. If no action is taken, customers will be auto enrolled in the free version of Call Filter. Accounts with 3 or more eligible lines can subscribe to Call Filter Plus (Multi-line) for $10.99/mo by logging in to My Verizon. The spam filter will be automatically set to block high-risk spam callers, but you can change your block settings at any time. Data charges apply.
What's New in the Latest Version 14.7
Last updated on Aug 28, 2023
Old Versions
Version History
Bug fixes and improvements
Bug fixes. SMS and call spam reporting from native iOS Call Log and Messages.
Multi-SIM support
Bug fixes
New application user interface
New features and bug fixes.

-Improved blocking

-Recent spam and block history

-Improved call management

-Custom Allowed Numbers list
- Bug fixes.
- Updated Terms & Conditions
Improved functionality and bug fixes.
Verizon Call Filter FAQ
Verizon Call Filter is available in regions other than the following restricted countries:
Ecuador,Nicaragua,Barbados,Bulgaria,Micronesia,St. Lucia,Belarus,Gabon,Georgia,Sri Lanka,Venezuela,Bahamas,Congo, Democratic Republic,United Kingdom,Guinea-bissau,Italy,Seychelles,Trinidad and Tobago,South Africa,Chile,India,Kazakhstan,Singapore,St. Vincent & The Grenadines,Nepal,Cape Verde,Algeria,Fiji,Honduras,Croatia,Indonesia,Mongolia,New Zealand,Taiwan,Panama,Afghanistan,Angola,Belize,Czech Republic,Kuwait,Maldives,Nigeria,Solomon Islands,Switzerland,Cayman Islands,Macao,Qatar,Dominican Republic,Gambia,Hungary,Malawi,Slovenia,Tonga,Uganda,Kosovo,Argentina,Colombia,Guatemala,Ireland,Slovakia,Thailand,British Virgin Islands,Burkina Faso,Bhutan,Congo,China,Antigua And Barbuda,Denmark,Mali,Ukraine,Zimbabwe,Bahrain,Costa Rica,Guyana,Latvia,Mauritania,Palau,Tajikistan,Vietnam,Brunei Darussalam,Germany,Lao Peoples Democratic Republic,Namibia,Poland,Serbia,Greece,Libya,Pakistan,El Salvador,Uruguay,Zambia,Azerbaijan,Papua New Guinea,Saudi Arabia,Turkmenistan,Peru,Grenada,Kyrgyzstan,Malaysia,Paraguay,Bermuda,Mexico,Suriname,Spain,Cambodia,Niger,Portugal,Senegal,Chad,Armenia,Egypt,Hong Kong,Israel,Montenegro,Mozambique,Sweden,Tanzania,Vanuatu,Jordan,Lithuania,Oman,Uzbekistan,Brazil,South Korea,Lebanon,Norway,Anguilla,Canada,Cyprus,Iceland,Malta,Sao Tome & Principe,Finland,Iraq,Japan,Philippines,Russia,Sierra Leone,Yemen,Belgium,Liberia,Macedonia,Swaziland,Turkey,Albania,Nauru,Bosnia & Herzegovina,Botswana,Cameroon,Ghana,Jamaica,Madagascar,Myanmar,Romania,Bolivia,Dominica,France,Kenya,St. Kitts and Nevis,Morocco,Montserrat,Turks and Caicos,Australia,Cote Divoire,Estonia,Rwanda,United Arab Emirates,Austria,Benin,Luxembourg,Moldova,Mauritius,Netherlands,Tunisia
Verizon Call Filter supports English
Check the following list to see the minimum requirements of Verizon Call Filter.
iPhone
Requires iOS 13.3 or later.
iPod touch
Requires iOS 13.3 or later.
Related Videos
Latest introduction video of Verizon Call Filter on iPhone
Verizon Call Filter Alternative