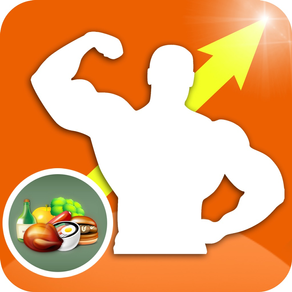 Weight gain, Diet tracker
Weight gain, Diet tracker Screenshots
About Weight gain, Diet tracker
" Weight gain , Diet tracker "
We always need calories to survive (calories counter), so it always takes one suitable diet (diet tracker). If you are overweight, you have to have the diet to lose weight (weight lose tracker or weight lose calculator).
Nutritional calories are needed daily for the body (nutritional counter), weight gain or weight gain depends on what you put nutrition (calories) your body on a daily ingestion (diet tracker)
If you want to lose weight (weight lose), you have to set specific goals (weight gain goals), by having an appropriate diet, exercise moderation and supervision by specific reports in the chart, select the appropriate dishes, food or foods must be safe.
You want to have a healthy body by having a reasonable diet? (Diet tracker)
You want to lose weight by exercising and playing sports every day? (Weight lose tracker)
You want to track the daily diet by controlling the amount of calories taken into the body via the diet? This app brings you best weight gain and diet tracker.
You are overweight and you want to lose weight, simple, use the application "Diet tracker, weight gain " of us. To accomplish successful weight gain , you must rely on diet and exercise regime. This application will be the choice that suits you to additional measures on a typical diet, daily exercise routine data and track daily progress results, so that you know what you're going on track to lose weight according to specific objectives.
To achieve your desired weight, we bring you the tracking tool recipes, fitness and sports training, calorie measurement tools and evaluation according calorie chart, and the detailed data reporting to you assess. Application has helped millions of members achieve their goals and live a healthy and happy, the better. Fully integrated applications of information reported to you about diet details of everyday dishes, updated open about food category.

THE MAIN FEATURES OF THE APPLICATION "Weight gain & Diet tracker":
1. Subscribe to the weight (weight) to your daily, weekly and monthly.
2. Review and evaluate achievements (target weight) training and daily diet according to objectives set out initially.
3. Subscribe to lose weight every day, week, month through your data graph showing weight.
4. Review the progress and history of weight in days, months, years.
5. Allow logging food and daily exercise regime. The food available in the database, or if not, you take the initiative to enter the system.
6. Estimate the number of calories needed to sustain life in your day (figures are calculated consistent with a fall of 0.5 kg in 1 week)
7. Allow you to choose the recipes pineapple on the dish, the food that you eat every day from the database of the application.
8. Allow you to select the data on daily practice mode, and allows you to make notes in a diary application.
9. Applications offer a diet aimed at encouraging people to exercise and sport to ensure the health and weight gain according to your purpose.
10. Change the language (English, Vietnamese, etc.)
11. Please share with our application.
12. Please G + 1 for application to everyone and app reviews Rate 5 * to motivate us to improve the quality better and better application.
13. See also our application on the store.

The "Diet, Weight Gain " (Diet tracker, weight gain ) app will help millions of overweight people who want to lose weight in order to ensure the health, and in accordance with the height of the body. We do this not out of applications that purpose. Providing an effective tool, to assist you with a solution to lose weight effectively, safely and specifically implemented in each day. The objective is our No. 1 makes you really happy, and there is a ideal body, live a happy life, health and happiness.

Download Application "Weight gain & Diet tracker" for free.
Start applying application to practice sports and adopt a scientific diet to have a healthy life, fun, happy
Please use our app now! Thank you!
What's New in the Latest Version v1.1
Last updated on Oct 2, 2019
Old Versions
Weight gain, Diet tracker FAQ
Check the following list to see the minimum requirements of Weight gain, Diet tracker.
Weight gain, Diet tracker supports English
Weight gain, Diet tracker Alternative