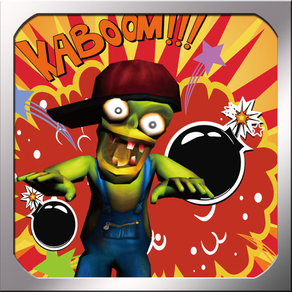 About ZombBuster
Bust'em All the Zombies!

Detonate infinite bombs on your fingertip.
Bust filthy little zombies jam packing conference room table.
Desperate little humans need your help to escape from raising zombies.

TIPS
- You should save little people on the table as long as possible by busting zombies.
- You can earn scores by busting zombies.
- You will be rewarded high scores when you bust a lot of zombies at once.
- You can post your scores and screenshots on Twitter and Facebook.
- You can adjust camera angles and positions freely which makes you watch your zombies and humans more closely and vividly.
- You can take your own screenshot with pause and camera buttons.

* this app is universal for iPad, iPad mini, iPhones with various resolutions
What's New in the Latest Version 1.24
Last updated on Aug 14, 2013
Old Versions
User Experience Enhancement
- Facebook publishing procedure improved
Version History
User Experience Enhancement
- Facebook publishing procedure improved
User Experience Enhancement
- Human AI is improved at least smarter than Zombies

Sounds Improvement
- Thunderbolt sound is replaced with electric thundering from button blob
ZombBuster 1.22 update log

User Experience Enhancement
- When users plant bombs on the table, thunderbolt strike at the point which the fingers tap in purpose of enhancing visibility of what they are doing
User Experience Enhancement
- decrease waiting time greatly from 10 mins to 30 secs instead of inserting ads between game plays

Bug Fixes
- combo bonus between 9 and 10 kills gave 0 point which is now 1 million.
- rarely zombies and humans fell aside table which is now fixed.
ZombBuster 1.12 Update

Bugfix
- During playing game, camera button acted unexpectedly which is fixed now
Graphics Improvements
- Particle effect added when zombie dies
- Particle effect timing is changed when human dies
- Camera walk animation added for starting game
- Game starting point resets every time player replays

Sounds Effects enhancements
- Zombie bursts to die sound effect added
- Getting score sound effect added when zombie dies
- Achieving combo sound effect added
- Obtaining insignia sound effect added
- Planting bombs sound effect added
- Game starting whistle sound added
- Background Music added
- Eyeball popping sound effect added
- Every sound changed to 2D for better effect

Bug fixes
- Screenshot problem relieved
- Boombox window related issues solved
bug fix
- complimentary 20 boom boxes added (you can play 20 free games)
ZombBuster FAQ
Check the following list to see the minimum requirements of ZombBuster.
ZombBuster supports English