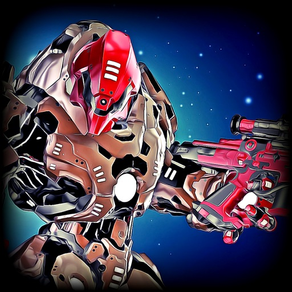 Zombie Moon – SciFi Social RPG
4.0.0
for iPhone, iPad and more
Zombie Moon – SciFi Social RPG Screenshots
About Zombie Moon – SciFi Social RPG
Zombie Moon is a social menu-based RPG with a TEEN rating; you are required to think, tap, talk and gather in the style of social Facebook games but with a lot more. It is NOT an First Person Shooter / not FPS. The chat community is friendly & awesome!

If you love pen and paper RPG's, Sci-Fi, Zombies and making friends across the world then you will love Zombie Moon. If you're looking for a 3D shooter, this is not the game for you.

GAME FEATURES
● Chat - Awesome community - no bullying, spam, sexism, etc.
● Unlock the mystery of Zombie Moon through missions over 1000 levels -- gain special rewards.
● Level up & take down rival players. Or make friends.
● Free "treasure chests" to get great equipment.
● Game Creators play the game with you -- fight them, talk to them, and more.
● Space Marines vs. Zombies -- what more do you want? Oh yeah, Vampires.
● FREE to play -- always!

Note: This game can only be played when online.

REVIEWS
Snakehead Games has pioneered Social Browser Based Games for 7 years; some players have been with us from the start, some are newer. Zombie Moon takes that awesome experience and brings it to mobile.

Some of their reviews are:

-Addictive kind of like Dungeons and Dragons in space.

-Awesome!! I have played SHG games for years. Best one yet ... awesome job guys!!

-Wicked Space Game If you like SyFy then you should enjoy this game.

-Addictive and full of hidden depths This is a simple game. Or so it seems at first, the gameplay is remarkably easy to get your fingers around (playing on a phone, that's an important feature). But what becomes addictive is not the simple play, but the depth of story that has been crafted.

-Fun Stuff!! What an adventurous involving time I had playing Zombie Moon. Love the sounds and customizing my marine to do in the zombies.

Review from one of the Game Creators
As one of the game creators, and player too, I love Zombie Moon and glad others are as well! It's the mobile evolution of the existing www.starpirates.net, www.spybattle.com & www.gatesofcamelot.com. It's actually in the same universe at, roughly, the same time. The gameplay is streamlined as the mobile experience (and screensize!) leads to a different style of play. For me, it works.

I love the storyline that comes out through the Missions feature. There is a mystery involved, and that unrolls through the Missions.

The game is free; you really don't have to pay to play, nor give Snakehead private info, to continue.

I love being part of an awesome Snakehead Games community that loves our games.


SOCIAL MEDIA

For news and updates follow us on social media:

Zombie Moon Twitter https://twitter.com/zombiemoongame

Zombie Moon Facebook https://www.facebook.com/ZombieMoonMobile


MORE REVIEWS

- FANTASTIC -- This is the very first game I have played on my phone. Now I understand what my kids are saying. Its a lot of fun.

- DOWNLOAD THIS GAME RIGHT NOW!!!! Awesome game.

- MAFIAWARS MOVE OVER -- I used to play Mafia Wars when it first came out. You know when Facebook was a wee lad. Anyway, it went from fun to demanding I pester everyone I know on facebook to advance. Ugh. Zombiemoon seems to have figured out the right balance. It's like the son of Mafia Wars, in space, fighting zombies. Me like!

- Great game full of intrigue and mystery.

-Phenomenal Story and Graphics -- Out of all of the social media / Browser Games I've played, this one has the best graphics and sound I have seen. The story is pretty rad too. Kinda like grimdark meets dante's inferno
What's New in the Latest Version 4.0.0
Last updated on Feb 11, 2021
Old Versions
v4.0
- New 88 points button
- UI Updates
- Bug Fixes
Version History
v4.0
- New 88 points button
- UI Updates
- Bug Fixes
v3.9.0
- New Features
- - Combine Items (coming soon)
- - Prestige Award for PVP Streak
- - Top up to 99 Energy
- Added Logout Button
- General Maintenance and bug fixes
- New Engine and Improved Code Base, Same Great Game

v3.8.1

-unblock player button
-use 5 supplies button in PBP
-can now tap supplies/energy/points to open the spend points menu
-supply and energy cost now correctly displayed
-bug fixes
v3.7.9
-Ally Find list working
-Correct Supply/Energy Points Cost Displayed
-PBP Speed Greatly Increased !
-Messages Delete After Accepting/Declining Ally
-Most Recent Squad Donation/Time Displayed
-Advanced Search is now Persistant
v3.6.9
-New UI, Same Great Game
-New and Improved "Supply Drop" system
-Also Squashing Bugs and Refactoring
Tutorial Improvement, Automatic refill of battle list, Improved IAP support
Q4 system refresh, improved support for iOS8 and 9. Video performance.
Bug fixes. Improved connectivity handling, fast banking from header area.
v3.3.06
-Added more Tasks
-Add more Missions
-Added social options
-Misc bug fixes
v3.3.05
Minor improvements and bug fixes
v3.3.01
-Added Squad Bosses
-Added Donate Timer
-Added more Squad Icons and the ability to change Squad Icon
-Minro Improvements and Fixes
v3.2.02 - Armed 2 Update, Mercenaries Added, Minor bug fixes
3.1.4 - aISIS upgrades and New Look
3.0.39 banking improvements and squad chat
3.0.34 - Resolved Application Crashes
Quests and tasks added. Improved level up, chat font size customizations, major engine improvements.
v3.0.32 - Faster game load, Support for Huge Ally and Inventory lists, Improvements to Introductory Guide, bug fixes
v3.0.30 - iPad Air 2 support, larger chat display area
v3.0.29 - patch to fix item donation and supply drops
v3.0.27 - Inventory fixes, Custom search added to Battle screen
Completely new engine, faster startup time, iPad 1 support, 3-D item renders, in-list combat results, auto-switch to "squad search" in battle list when attacking a player from squad page during war. NOTE: game notifications are not active in this release.
Hall of Fame, Silver Gold and Platinum Bonus Supply Drops
Smoother new player experience
v1.8.4 - Improvements to Squads, Squad Wars and Messaging. Other minor fixes
Squad Wars!
Multiple performance improvements.
Squad formatting enhancements, improved network fault recovery, PVP attack optimizations.
Zombie Moon – SciFi Social RPG FAQ
Check the following list to see the minimum requirements of Zombie Moon – SciFi Social RPG.
iPhone
Requires iOS 8.0 or later.
iPad
Requires iPadOS 8.0 or later.
iPod touch
Requires iOS 8.0 or later.
Zombie Moon – SciFi Social RPG supports English
Zombie Moon – SciFi Social RPG Alternative