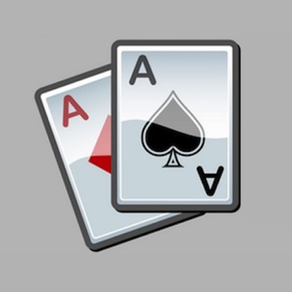 Galts Motor: Poker Calculator for Holdem, Omaha, Deuce to Seven, Badugi & Ace to Five Games
Gratis
Offers In-App Purchases
2.05
for iPhone, iPod touch
لقطات الشاشة لـ Galts Motor: Poker Calculator for Holdem, Omaha, Deuce to Seven, Badugi & Ace to Five Games
About Galts Motor: Poker Calculator for Holdem, Omaha, Deuce to Seven, Badugi & Ace to Five Games
The world's most sophisticated poker calculator, and the only app to support both Flop and Draw games. Galts Motor calculates hand equities (odds of winning) for six of the most popular poker games, Holdem, Omaha, Omaha 8 or Better, Deuce To Seven, Ace To Five, and Badugi.

Calculate equities for hands with up to 6 players, incorporating board cards, dead cards, hand ranges (multiple hands per player), random hands, and in draw games from Single Draw to Triple Draw.

From mid-stakes all the way up to the big game in Bobby's Room & the WSOP's prestigious $50k Players Championship, the worlds biggest poker games are "mix games", multiple games played in rotation. Mix games are not just more fun and interesting, but also the greatest test of poker skills. The higher the stakes, the more important it is to play more than one game well to win. Galts Motor is the best way to improve in the most popular poker games, increasing your edge to pave your way to bigger wins and higher stakes.

The free version of Galts includes Holdem and a free trial of all other game calculators. Streamlined entry makes entering cards quick and easy enough to review hands right at the table. Or use the Copy button to share hands with friends to discuss how you played it, show how unlucky you got, or how bad your opponent was.

In-app purchases can activate the Deuce to Seven or Badugi calculators, or the Pro version including all game calculators (Deuce to Seven, Badugi, Omaha, Omaha 8 or Better, and Ace to Five.) and adds more advanced features including

Draw Hand Logic Control: Determine how hands are patted, broken and folded. See how equity changes versus opponents who pat weakly, draw to stronger hands, break easily, or fold often.

Weighted Hand Ranges: Assign each player a range of hands, with each hand in their range weighted by available deck cards, to calculate your average equity against their ranges.

Hand Histograms: Review hand distributions and equities on each street. See how playable hands are by how often they can reach showdown, or fold before it.

Also calculation history saved to make it easy re-calc or edit previous calculations, and random hand ranges to examine pre-flop/draw equity, such as when you have players behind you left to act.
تحديث لأحدث إصدار 2.05
Last updated on 25/07/2015
الإصدارات القديمة
This app has been updated by Apple to display the Apple Watch app icon.

Fixes bug preventing restoration of in-app purchases.
Version History
This app has been updated by Apple to display the Apple Watch app icon.

Fixes bug preventing restoration of in-app purchases.
Fixed conflict with some custom keyboards on iOS 8.3. Custom keyboards would not allow editing/entering hands in hand entry view, so they are now disabled.
Fixes for single draw calculations so they are no longer affected by new multi-draw settings.
New
- Fully entered draw game hands (i.e. 5 cards for Deuce/Ace, or 4 cards for Badugi) containing pairs now are broken. Previously Galts assumed all fully entered hands should be patted. This makes it easier to enter paired hands, for example in Deuce you can enter a hand as 74322 directly instead of having to enter it as 7432 and the extra 2 in Dead cards.
- Range strings have been made more legible by adding spaces between each hand in ranges.
- Fixed "hand could not be built" error where occasionally the combo compression algorithm occasionally failed to create a usable combo when running multiple single hand hand ranges vs. one multiple hand range.
- Errors during combo builds now clear UI properly, so if you do get an error you can still run new calculations without restarting Galts.
- Fixed bugs where Omaha8 (and possibly other flop games) couldn't build multiple hand ranges if a random hand was in the range.
- Holdem calculator now free. Advanced features and other calculators activate automatically for existing customers, and include evaluation trial for new users along with In-App purchases to activate.
- Hand histograms for hand distributions/equities on each street to determine how playable hands are.
- Combination weighted hand ranges increase accuracy, random hands simulate hands yet to act.
- New hand editor makes entering hands and hand ranges easier.
- iOS 8.0 compatible.

New Draw Game calculators features
- Pat/Break/Fold decisions now editable, incorporating opponent tendencies in equity calculation.
- Positional Equity: Hands incorporate information from players acting before them in drawing decisions. See how much more profitable hands are when in position, or less profitable when out of position.
Bug fixes, including error in high card calculations for nearly identical flop hands.
Adds simple hand ranges, allowing each player to be assigned multiple hands. Fixes bug in 1.0.1 where 08 simulator wasn't calculating low equities, and improved hand history functionality.
Added a history button, stores last 8 calculations done for each game to make it easier to go back to a previous calculation.

Note: This update broke the 08 simulator so it stopped calculating low equities. A fix will be out by next week.
Galts Motor: Poker Calculator for Holdem, Omaha, Deuce to Seven, Badugi & Ace to Five Games FAQ
انقر
هنا
لمعرفة كيفية تنزيل Galts Motor: Poker Calculator for Holdem, Omaha, Deuce to Seven, Badugi & Ace to Five Games في بلد أو منطقة محظورة.
تحقق من القائمة التالية لمعرفة الحد الأدنى من المتطلبات Galts Motor: Poker Calculator for Holdem, Omaha, Deuce to Seven, Badugi & Ace to Five Games.
iPhone
Requiere iOS 7.0 o posterior.
iPod touch
Requiere iOS 7.0 o posterior.
Galts Motor: Poker Calculator for Holdem, Omaha, Deuce to Seven, Badugi & Ace to Five Games هي مدعومة على اللغات Inglés
في Galts Motor: Poker Calculator for Holdem, Omaha, Deuce to Seven, Badugi & Ace to Five Games عمليات شراء داخل التطبيق. يرجى التحقق من خطة الأسعار على النحو التالي:
Purchase Pro Version
USD 49.99
Purchase Deuce Calculator
USD 19.99
Purchase Badugi Calculator
USD 19.99
بدائل لـ Galts Motor: Poker Calculator for Holdem, Omaha, Deuce to Seven, Badugi & Ace to Five Games