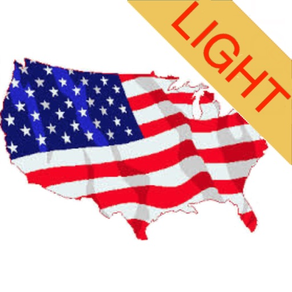 Guess that State Light
2.2.1
for iPhone, iPod touch
لقطات الشاشة لـ Guess that State Light
About Guess that State Light
Guess USA states identifying their shapes.
A cool game to learn US geography in a few minutes.
If you want that your boys and girls can recognize the 50 states of USA you should download this game.

***Credit***

This app if to honor the memory of my friend "Al".
He was the one that in 1981 when I was 12 introduced me to the Apple world and to Basic programming.
He was able to create a program to guess USA states showing its shape.
In that way I learned the names of all the 50 US states.
Then we made a modification to guess all the 20 italian regions.
In that way I learned how to make a program in basic.

Thank you Al for having teached me love for programming and love for Apple!!!
I will always remember you.
تحديث لأحدث إصدار 2.2.1
Last updated on 10/12/2020
الإصدارات القديمة
Version History
Optimized for iPhone 11, 11 Pro and 11 Pro Max
iOS 9 ready. iPhone 6s and 6s plus ready.
New graphic and small improvements (touch the screen to close the keyboard).
Now the State to guess is not repeated if already guessed.
When you finish to guess all the 50 states the game restart from zero.
Guess that State Light FAQ
تحقق من القائمة التالية لمعرفة الحد الأدنى من المتطلبات Guess that State Light.
iPhone
Requiere iOS 10.0 o posterior.
iPod touch
Requiere iOS 10.0 o posterior.
Guess that State Light هي مدعومة على اللغات Inglés
بدائل لـ Guess that State Light