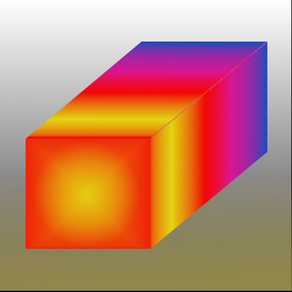 لقطات الشاشة لـ iHeat Xfer
About iHeat Xfer
iHeat Xfer can be used to calculate the power required to heat different shaped objects and flowing liquids or gas mixtures. The user defines the size and shape of the object, the starting and ending temperature and the time required to heat the object. For heated streams the user defines the flow rate instead of the time required for heating. The application then calculates surface temperatures and the required wattage or BTUs required for heating at startup and in a steady state condition. Engineers, students or hobbyists will find this app very useful in order to size a heater for their heating application. Students can use this to check heat transfer problems or for use in lab environments. Once the results are calculated, the user can then email a detailed report summary for future reference or that can be shared.

iHeat Xfer Features:

Over 230 common industrial material and thermal properties are stored in a database for instant access for solving heat transfer problems.

Startup power and steady state power is determined with all system losses (conduction, convection and radiation losses) accounted for.

All results are summarized in a very detailed report which can be emailed for future reference or shared with another individual. All material properties and thermal properties are included in the report for a complete analysis if desired.

Shapes can be solid or filled containers and can be insulated with a user selected insulation material and thickness. The program will estimate outer surface temperatures so the proper insulation type and thickness can be selected.

If the heating system is not controlled the outer surface temperature is estimated in a "run away" condition which can be valuable for determine if a safety override is needed.

If a material is not in the database, the user can put in his own custom thermal properties for a given material. This provides flexibility if the material being heated is not in the supplied material database.

Gas mixtures can be used as well, with many predefined gases at your disposal.

For electric heating applications a reference guide is available to help selecting proper heater sheath materials and maximum watt densities required for various materials.

A handy replacement heater calculator is included that can be used for substituting a replacement heater that is used at a different ratted voltage and what the percent difference and wattage effect is.

A three phase calculator is included that can be used to calculate resistance, wattage, voltage and amperage for both delta and wye wired configurations. These are common wiring configurations for industrial three phase heaters.
تحديث لأحدث إصدار 1.7
Last updated on 22/11/2016
الإصدارات القديمة
Updated for new iOS version.
Version History
Updated for new iOS version.
iHeat Xfer FAQ
تحقق من القائمة التالية لمعرفة الحد الأدنى من المتطلبات iHeat Xfer.
iHeat Xfer هي مدعومة على اللغات English