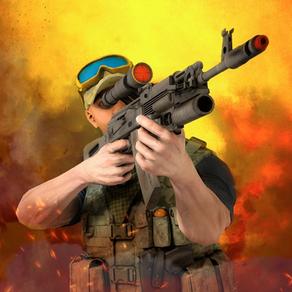 Llamada de combate de francoti
Sniper FPS campo de batalla di
1.2
for iPhone, iPad and more
لقطات الشاشة لـ Llamada de combate de francoti
About Llamada de combate de francoti
El mundo está bajo un ataque serio de rebeldes y han perturbado la paz de la tierra. Frontline Army Hero Combat está destinado a todos los amantes de la paz serios. Frontline Army Hero Combat está planificado para que puedas demostrar tus habilidades. Como comandante, sus deberes son hacer frente a los terroristas y actuar de acuerdo con las instrucciones del cuartel general. Dispara a todos los terroristas y ayuda a la niña a escapar. Los rebeldes han conquistado algunas regiones del país y se han concentrado en las afueras de la ciudad. Han sido terror dispersos en diferentes áreas del mundo, Medio Oriente y Siberia. Al comandante Alex se le ha ordenado que dirija todos los elementos que perturben la paz del país. Como comandante, su misión es dirigir las Fuerzas Especiales de Frontline desde el frente y matar a todos los terroristas. Da lo mejor de ti y rescata a las chicas atrapadas en la jaula por los terroristas que también difunden la bomba y salvan la población de la ciudad.

Características de Frontline Army Hero Combat 2018:
¡Frontline Army Hero Combat es el juego futurista!
Múltiples funcionalidades!
Juego realista!
Realista juego de disparos FPS!
Juego de disparos de varios niveles!
تحديث لأحدث إصدار 1.2
Last updated on 22/03/2022
الإصدارات القديمة
Version History
Added new guns
Added new levels
Added improved AI

Enjoy the best Call Of Sniper Game...!!!
Apple actualizó esta app para mostrar el ícono de la app Apple Watch.
Llamada de combate de francoti FAQ
تحقق من القائمة التالية لمعرفة الحد الأدنى من المتطلبات Llamada de combate de francoti.
iPhone
Requiere iOS 9.0 o posterior.
iPad
Requiere iPadOS 9.0 o posterior.
iPod touch
Requiere iOS 9.0 o posterior.
Llamada de combate de francoti هي مدعومة على اللغات Inglés
بدائل لـ Llamada de combate de francoti