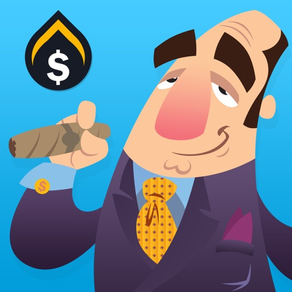 Oil, Inc. - Idle Clicker
Build an idle oil empire!
Gratis
Offers In-App Purchases
1.3.9
for iPhone, iPad and more
لقطات الشاشة لـ Oil, Inc. - Idle Clicker
About Oil, Inc. - Idle Clicker
Get your hands into the oil industry! Invest in your first oilfield and start to drill that delicious, profitable, stinky oil!

Oil, Inc. is an oil industry simulation game with tons of tapping and strategy elements.

You have to build and manage facilities for oil drilling from Oil Derrick, Offshore Platform, Refinery, to Storage Tanks, and Petrol Station. Drill hard and unlock Zombies, Aliens, Monsters and a nasty Mega-Robot to drill for you. Yeah, awesome!

Build a science lab to make experiments with your workers brain to get more profit out of them. Invest in engineering; send out geologist and geophysicist to explore new oilfields. Establish your headquarters, track various factors and construct a winning strategy. Rush for the black gold now!

GAME FEATURES:

* BUILD oil facilities to extract valuable crude oil
* DRILL with funny humorous workers
* SKILL your workers
* CONSTRUCT a beautiful town
* UNLOCK special oil drillers: zombies, aliens, monsters…
* HIRE managers and investors to grow into the biggest oil imperium on earth
* DEAL with industry crisis
* TRADE with stocks
* CONQUER the world, expand your oil industry
* COMPLETE tons of tasks to become a mighty Oil Tycoon
* EASY TO PLAY for the whole family
* PLAY with friends

How much do you know about oil and gas? Test your knowledge with our oil and gas industry quiz.
تحديث لأحدث إصدار 1.3.9
Last updated on 05/09/2020
الإصدارات القديمة
Version History
Various changes and bug fixes.
New investor. Find out who is he!
Minor screen adjustments for iPhone X, XS, XS Max and XR.
Minor fixes on the zombies platform.
A few tasks are changed. Other minor gameplay changes.
Minor gameplay changes and bug fixes.
- Worker characters will give production boost or price reduction for a limited time when tapped! Let's play with those workers!
- Oil stack capacity increased, which means more idle oil!
- Now you can boost oil production with watching video ads.
- 84 new managers.
- Managers are cheaper now.
- Investors' effect and prices are modified. They are cheaper now, and there is a broader selection of different investor multiplier combos.
- Town buildings' prices are cheaper. Now you can unlock the BONUS platforms sooner with fewer cash.
- Classroom skill names are finally fixed. Learning skill prices are lower too.
- Worker characters have different outfits on each platform.
- Investors are now unlocked after the 5th platform.
- Investors can be temporary hired for free with just a tap without watching a video ad.
- Many notifications don't block the screen anymore, instead an icon is shown in the HUD.
- Banner and interstitial ads are disabled.
Bug fix for watch ads crash.
Minor internal changes to support the new iPhone XS, XS Max.
- iPhone X fullscreen support
- Less forced ads
- A new guest investor! Find it out who is this guy!
- Bug fixes and gameplay improvements
Some gameplay changes. 5 bonus quiz tickets for each purchase!
Autosave. Minor gameplay improvements.
Added help to the Quiz: 50/50 and Double Dip. 50/50 eliminates two wrong answers, and with the Double Dip you can give two answers for a question.
- 2 new guest investors! Find out who they are!
- Fixed bug which occurred when you got all badges.
- Fixed bug when you level-upped more than 3000 times.
- Fixed the task which didn't count cash from free gifts.
Fixed a bug with the share functionality.
Fixed bug with Australia oil reserves not saving.
Oil, Inc. - Idle Clicker FAQ
تحقق من القائمة التالية لمعرفة الحد الأدنى من المتطلبات Oil, Inc. - Idle Clicker.
iPhone
Requiere iOS 9.0 o posterior.
iPad
Requiere iPadOS 9.0 o posterior.
iPod touch
Requiere iOS 9.0 o posterior.
Oil, Inc. - Idle Clicker هي مدعومة على اللغات Español, Alemán, Armenio, Catalán, Checo, Chino simplificado, Chino tradicional, Coreano, Danés, Eslovaco, Finés, Francés, Griego, Hebreo, Húngaro, Indonesio, Inglés, Italiano, Japonés, Malayo, Neerlandés, Noruego bokmål, Persa, Polaco, Portugués, Rumano, Ruso, Sueco, Tailandés, Turco, Ucraniano, Vietnamita, Árabe
في Oil, Inc. - Idle Clicker عمليات شراء داخل التطبيق. يرجى التحقق من خطة الأسعار على النحو التالي:
3 Spin and Win Spins
$0.99
بدائل لـ Oil, Inc. - Idle Clicker