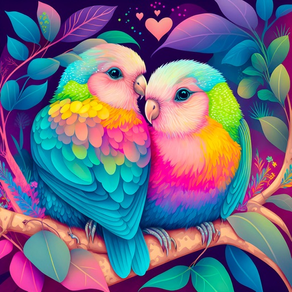 Creative Puzzles: Jigsaw Game
Reassemble the picture
Gratis
Offers In-App Purchases
3.3.2
for iPhone, iPad and more
لقطات الشاشة لـ Creative Puzzles: Jigsaw Game
About Creative Puzzles: Jigsaw Game
Fun and relaxing unique jigsaw puzzle game. Join the pieces together to complete the picture. Each puzzle is a story. Every detail is art.

Relax your mind while putting tiles together. Move pieces into the blank fields until the complete picture is revealed. Use hints to match next piece or see the image.
تحديث لأحدث إصدار 3.3.2
Last updated on 10/07/2023
الإصدارات القديمة
Version History
- New Starter gallery with beautiful brand new puzzle images!

- Ready for the new challenges? Complete interesting missions every day and open Secret Puzzles!

- Play puzzles and complete daily missions to earn XP, and use it to level up. Can you reach the max rank?

- Added 50 Graffiti puzzles.
New puzzles:
100 Sketch
12 Contemporary Art
36 Amazing Characters
12 Hidden Emotions
50 Happy Halloween

Cloud Save - save your progress and continue playing after deleting the game, getting a new phone/tablet, or continue playing on multiple devices.
98 new puzzles:

50 Adventure Time
12 Galaxy
12 Magical
12 Minimalistic Landscapes
12 Neon Lights
124 new puzzles:

100 Fantastic Digital Art
12 Imaginary Scenes
12 Vaporwave Style
144 new puzzles added:

120 Asian Art
12 Dongzhi Festival
12 Happy Mother's Day
66 new puzzles added:

30 Retro Posters
12 Happy Birthday
12 Brazilian Carnival
12 Anime Characters
20 new puzzles:

8 Hand Drawn Maps
12 Zine Culture
260 new puzzles added!

New galleries:

50 Valentine's Day
50 Animals
28 Sport
12 Casino
12 Retro
12 Female Portraits
12 Disaster
12 Cosmetics
12 Zodiac Signs
12 Emoji
12 Military
12 Cartoon Animals
12 Christianity
12 Easter
New gallery:
34 Landscapes.
Biggest update to date with many new puzzles and features!

1360 new puzzles added!

All paid galleries are now unlocked with coins! Earn coins by playing puzzles or trying your luck in the new spin & win feature!
- Candy Land gallery with 12 puzzles
- Polishing puzzles difficulty
Want something different? Play the new 100 Photos pack!
130 NEW puzzles!

50 Everyday People.
30 Amazing Circus.
50 Medieval.
Biggest update to date with 164 new puzzles and user interface changes.

- 38 new Christmas puzzles
- 38 new Halloween puzzles
- 38 new Fantasy puzzles
- Brand new Fairytale gallery with 50 puzzles
Creative Puzzles: Jigsaw Game FAQ
تحقق من القائمة التالية لمعرفة الحد الأدنى من المتطلبات Creative Puzzles: Jigsaw Game.
iPhone
Requiere iOS 12.4 o posterior.
iPad
Requiere iPadOS 12.4 o posterior.
iPod touch
Requiere iOS 12.4 o posterior.
Creative Puzzles: Jigsaw Game هي مدعومة على اللغات Inglés
في Creative Puzzles: Jigsaw Game عمليات شراء داخل التطبيق. يرجى التحقق من خطة الأسعار على النحو التالي:
بدائل لـ Creative Puzzles: Jigsaw Game