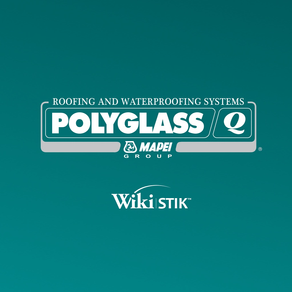 Polyglass WikiSTIK™ Mobile
لقطات الشاشة لـ Polyglass WikiSTIK™ Mobile
About Polyglass WikiSTIK™ Mobile
Polyglass® WikiSTIK™ Mobile is a catalog for contractors, installers, architects, specifiers and other professionals involved in the roofing and waterproofing of commercial, residential and multi-family buildings.

Polyglass® WikiSTIK™ Mobile is an auto-updating technical catalog that provides building industry professionals immediate, on-demand access to Polyglass technical materials, manuals, brochures and web resources. Ideal for architects, specifiers and contractors, Polyglass® WikiSTIK™ Mobile keeps users up-to-date at all times.

Comprehensive in scope, it provides detailed product information for Polyglass' product lines including Polyglass Membranes with ADESO® Self-Adhered Technology, Roof Coatings, Kool Roof Solutions®, Polytherm insulation and Specialty Accessories to complete a quality roof system.

Here's what you get with the Polyglass® WikiSTIK™ Mobile:

Product Brochures

Technical Data Sheets

Specifications


Additional Features & Requirements


Cloud-based content ensures files are always up-to-date
One-click sync to get the most up-to-date documents along with notification to sync when new documents are available.
Convenient access to other Polyglass online tools and resources

Polyglass® WikiSTIK™ Mobile requires iOS 9 and a data or Wi-Fi connection

It's the fastest, most convenient way to view and download the latest Polyglass product literature

—and it's always up-to-date.
تحديث لأحدث إصدار 1.1
Last updated on 29/04/2019
الإصدارات القديمة
Polyglass WikiSTIK™ Mobile FAQ
تحقق من القائمة التالية لمعرفة الحد الأدنى من المتطلبات Polyglass WikiSTIK™ Mobile.
Polyglass WikiSTIK™ Mobile هي مدعومة على اللغات English
بدائل لـ Polyglass WikiSTIK™ Mobile