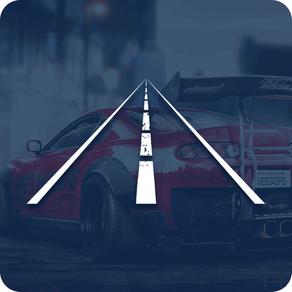 Road Club App
3.0
for iPhone, iPod touch
لقطات الشاشة لـ Road Club App
About Road Club App
Road Club App: Car & Truck Clubs

"For motor enthusiasts and involved with car clubs, truck clubs and motorcycle clubs."  If this is you, Then the Road Club App is for you. It's an application that lets you see the location of fellow enthusiasts and where they are headed. You can track their latest activities and journeys.This app is safe and secure where you will not be tracked unless you agree to update your location.

You can create your own car clubs, motorcycle clubs, truck clubs or any type of clubs that require wheels. You can also join existing clubs or branch out into new ones to build a community of bikers, truckers or car aficionados that take journeys into trails of new friendships.

Car, truck and hardcore motor enthusiasts will love this app to get friends and fellow enthusiasts on board that help others track friends and other clubs and rival car builders. By using this application, you can see who's who in your community of custom hot rods and drifters, four wheelers and pop wheelers.

Road Club App will also allow you to upload videos and images, send text to share with friends and clubs around the world. You can even restrict or allow friends to view posts, and even like, comment, and share them.

Features of the App:
Track Clubs: By installing the Road Club App you will be able to see current location of other clubs and users.

Create your Own Club: The app also allows you to create your own club for any niche or identification, specific to make, model or type of vehicle you drive like motorcycle, cars and trucks. Invite friends to join the convoy or create a schedule to cruise the highways and byways.

Create a Post: The app allows you to create all kinds of posts - videos, images, text content, etc. and share them across the board. You can get them to like, comment or share too. Let the world know who you are.

Messaging: The app has all-in-one messaging features that allow interactions with your created group along with other joined groups.

Profile: You can keep personal memories of your adventures with the clubs with shared videos and photos of the trip.

RoadClub App has multiple languages supports with Portuguese, Japanese, Spanish and English. This is an all-in-one app for enthusiasts of all kinds of vehicles, who are fond of adventures in life. Download the app today!
تحديث لأحدث إصدار 3.0
Last updated on 12/02/2020
الإصدارات القديمة
Version History
- Minor bug fixes and performance improvement.
- Add me only.
- Ability to delete post
- Multiple Language Support With English,Spanish,Portuguese and Japanese.
- Multiple Language Support With English,Spanish,Portuguese and Japanese.
- Multiple Language Support With English,Spanish,Portuguese and Japanese.
- Minor Bug Fix
- Performance improvement
Road Club App FAQ
تحقق من القائمة التالية لمعرفة الحد الأدنى من المتطلبات Road Club App.
iPhone
Requiere iOS 10.2 o posterior.
iPod touch
Requiere iOS 10.2 o posterior.
Road Club App هي مدعومة على اللغات Español, Inglés, Japonés, Portugués