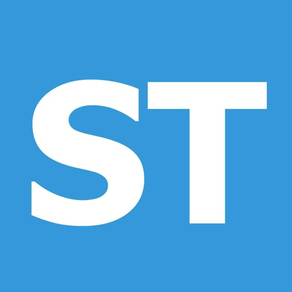 StreetTrek 4i
StreetTrek for iPhone
1.0.66
for iPhone, iPad and more
لقطات الشاشة لـ StreetTrek 4i
About StreetTrek 4i
StreetTrek 4i is offered for tracking of GPS capable Motorola MOTOTRBO radios on iPhones and iPads.
تحديث لأحدث إصدار 1.0.66
Last updated on 26/04/2023
الإصدارات القديمة
Added clickable zoom controls in the lower right area of the map. The feature is beneficial for devices with no touch support like M1/M2 Mac.
Version History
Added clickable zoom controls in the lower right area of the map. The feature is beneficial for devices with no touch support like M1/M2 Mac.
Added on map zoom controls for devices with no touch screen - M1 and M2 Mac. Tested on Mac-mini M2 with macOS Ventura version 13.2.1.
Added visual indication of a school bus opening doors.
Rebuilt with updated libraries, tested under iOS 16.3.
Rebuilt with Xcode 14.1 for iOS 16.1
Editing GPS assets aliases simplified. Alias can be typed over directly in the Assets list opened via the main screen List button.

Added option to change asset graphic and edit asset Alias.
Rebuilt with Xcode 13 for iOS 15.
Introduced login via QR code scan from the StreetTrek 4i app utilizing device camera, if available, and acceptable for the the user.
Existing functionality of entering login and password via onscreen keyboard is preserved.
Added an option to obtain own (device) location and plot it onto the main map. The option is enabled/disabled via check box on the main map page Info popup. The user will be prompted to allow or deny use of device location services by StreetTrek 4i app.
Default is 'not enabled'. Device location is obtained only when the user taps the 'Me' bottom bar button. The bottom bar will then show an extra 'Share' button for adding phone numbers. If the user added one or more phone numbers a tap on the 'Me' pin will
paste a Google Maps location link directly into the device default text messaging app to be sent out via SMS.
This option does not require a login.
Added support for 4G/LTE GPS trackers.Rebuilt for iOS 14.4.2
Rebuilt with Xcode 12.3. Added an option for end user to add custom pins to the map.
Main screen grid replaced by a faster control that can load more rows.

Built with Xcode 12.2. Tested under iOS 14.2
The Search field (find button) now allows entering a numeric ID to look up the last known position of a GPS asset. If the user enters a numerical string without spaces and taps Search the program will generate a query for the last known position of an asset with the corresponding ID. If search successful the position will be plotted onto a separate map with date/time shown on the bottom bar.
Previous Search functionality is fully preserved.
Added export to Excel option in the Report section. The option is enabled if Microsoft Excel app is installed on the device.
Log page GUI enhancements. The Log page content is GPS server diagnostics information organized by date and shown in a grid.
GUI changes. Each screen is now a separate page. Previous builds had one page with same elements visible while other remained hidden. Swapping visible and not visible parts of the page was creating illusion of navigation between screens. There are limitations to such approach. This build has separate pages each with its own menu bar.
Report map enhancement. Report route now shows clickable breadcrumbs. A click or tap on a breadcrumb scrolls the report list to the row that shows time and location.
Rebuilt with Xcode 11.4. Added an option for looking up GPS assets routes.
Added a toolbar option to send email to StreetTrek tech support.
Added an option to look up last known assets positions when they are older than the maximum info age of 24 hours. When the assets positions are older the maximum info age no assets are initially plotted onto the map and text below the map informs the user of the last date/time assets did report their coordinates. The added functionality is a tap on the text will load assets at their last known positions and the grid with Alias, Date/Time, address/coordinates will be automatically opened informing the user the positions plotted onto the map are past positions for the date shown in the grid.
Added Zoom bottom bar button visible when the user selects the Log option. Tap on the Zoom button will increase or decrease text font size making text easier to read on smaller high resolution screens.
Rebuilt with Xcode 11.2 , tested under iOS 13.2.2
Support for iOS 13 dark mode.
Added Time Slot column to the Voice Calls view.
StreetTrek 4i FAQ
تحقق من القائمة التالية لمعرفة الحد الأدنى من المتطلبات StreetTrek 4i.
iPhone
Requiere iOS 11.0 o posterior.
iPad
Requiere iPadOS 11.0 o posterior.
iPod touch
Requiere iOS 11.0 o posterior.
StreetTrek 4i هي مدعومة على اللغات Español, Alemán, Francés, Inglés, Ruso