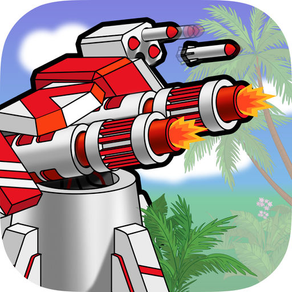 Tower Defense : King Of The War
لقطات الشاشة لـ Tower Defense : King Of The War
About Tower Defense : King Of The War
You may have played other "Tower Defense" games but get ready to play TOWER DEFENSE: King Of The War!
Get ready for the war, it's happening!
More than 24 levels to beat and 3 heroes waiting you to unlock!!
This game is free to play, but you can choose to pay real money for extra items like golds and gears etc...

Features:
-24 Missions.
-20 Units.
-30 Upgrades.
-3 Islands with unique levels.
-6 unique guns.
-Lots of soldiers, tanks and guns and stuff.

Looking forward to hear from you, we will work hard to provide you the best quality in our next versions, including new levels, heroes, items etc…
Please Rate us and enjoy our Tower Defense game.
تحديث لأحدث إصدار 1.2
Last updated on 17/05/2016
الإصدارات القديمة
Tower Defense : King Of The War FAQ
تحقق من القائمة التالية لمعرفة الحد الأدنى من المتطلبات Tower Defense : King Of The War.
Tower Defense : King Of The War هي مدعومة على اللغات English
بدائل لـ Tower Defense : King Of The War