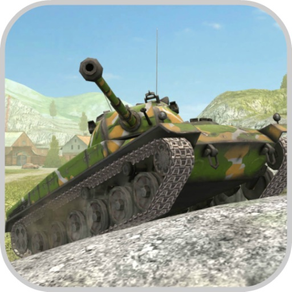 World War:Tank Battles City
World War:Tank Battles City
1.0
for iPhone, iPad and more
لقطات الشاشة لـ World War:Tank Battles City
About World War:Tank Battles City
World War:Tank Battles City is the time to take on a more attacking breathtaking war machines tank shooter game challenges with your teammate. You receive briefing from the battle station that the aerial radars have tracked a large opposition's war of iron machines force of tanks in action fighting game ambush with nonstop tanks near the fortress. Enemy want to destroy your fortress by modern ammunition in tank simulator combat war of tank game, Your next task includes the strike down of this tank shooting strike battle action game war plan by the opponent. You will have to lead the US military combat battle tank game station with your ammunition to defense and lay tyrant tanks battle mayhem war on the enemies by destroying the locations of their location.
Features:
- Realistic battlefield environments
- Intuitive touch screen controls
- Army tank mayhem fighting battle
- Best action tank battle game
- Fight with warships in leader mode
- Easy and smooth control.
تحديث لأحدث إصدار 1.0
Last updated on 22/04/2019
World War:Tank Battles City FAQ
تحقق من القائمة التالية لمعرفة الحد الأدنى من المتطلبات World War:Tank Battles City.
iPhone
Requiere iOS 8.0 o posterior.
iPad
Requiere iPadOS 8.0 o posterior.
iPod touch
Requiere iOS 8.0 o posterior.
World War:Tank Battles City هي مدعومة على اللغات Inglés
بدائل لـ World War:Tank Battles City