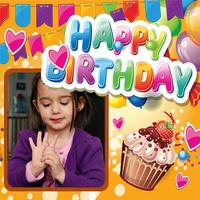 Birthday Photo Frames HD Deluxe
Free Get
Birthday Photo Frames HD Deluxe Description
Happy birthday to you! Take as many birthday photos as you want for your special day and wrap them in the most beautiful picture frames. Make real happy birthday cards with the best photo editor.

With "Birthday Photo Frames HD", you can:
- Select a photo from the gallery or take photos using the smartphone's camera.
- Wide range of styles and different frames for any picture.
- HD Christmas frames with vivid colors.
- Apply different effects on your photo: Black & white, sepia, grayscale, and more!.
- Share your creations via email, Instagram, Flickr, Facebook, Twitter and other social networks.
- Easy to use: Its creation in 2 steps!
- No internet connection needed.

Let the birthday party begin! Take photos with your friends, presents and a birthday cake. Have fun! But you should know that fun doesn't end when your friends go home. Then, the real party begins. Look at your photos, then put some happy birthday photo effects to make these moments unforgettable. Let the pictures tell the story by themselves and reflect a great atmosphere of the party. You can do that with each personalized happy birthday picture frame from the gallery.
Birthdays are important days in our lives. It is wonderful to celebrate life with your friends and family. This is a unique opportunity to be a host and at the same time the most important guest. If you want to change your old birthday photos because they look boring although the party was awesome, try this digital photo editor. Use special effects for your images like photo framing, because it is the easiest way to decorate them and make them look wonderful. This happy birthday photo frame free download is something you have always wanted for yourself. A photo by itself is not enough, it needs a photo editor free download, with unique frames for pictures that will make it extraordinary.
Happy birthday photo frames editing can be a real fun for your kids. You can spend a great time with these cartoon photo frames with cute decorations of a birthday cakes with candles, presents, balloons and cartoon characters. These are ideal kids picture frames that will make your little angels very happy.
Use only the best happy birthday frames free for your photos. You need to beautify your photos not to ruin them. Download this photo montage maker for free and enjoy the beauty of your happiest moments spent with your friends and family. Find the shape and the color of these unique photo frames that suit your photos the best.
Happy birthday frames for photos are here as a present for your birthday. Make your most important day more beautiful and festive with these "Birthday Photo Frames"! They are very easy to use with your phone – it takes only a few seconds to make your memories beautiful and unforgettable. Now you can enjoy the party – Happy Birthday!