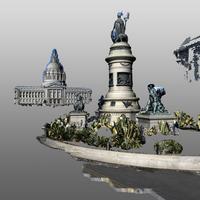 Coming Home, Civic Center
Free Get
Screenshots for iPhone
More Screenshots for iPad
Coming Home, Civic Center Description
Created by John Craig Freeman and SOUND MADE PUBLIC, and produced by Lava Mae and ZERO1, Coming Home, Civic Center, is a walk through augmented reality experience connecting the people of San Francisco across the housing divide.

Today San Francisco finds itself embodying both the best of human capacity and the worst. Our unrelenting crisis around housing insecurity and the houseless has come to define us as sharply as our innovation and entrepreneurship.

Most of us know little about our unhoused neighbors – those we see and the many more who are invisible – their stories or what's required to navigate these challenging circumstances. In Coming Home, you'll meet a full range of people and hear their stories – from life on the street to holding a job, as a student or an elder, and from the point of view of those who have successfully moved beyond what is, for most, a temporary situation. And you'll experience how we are more alike than we are different.

Other Coming Home episodes include:
Coming Home, Box City
Coming Home, Haight & Masonic
Coming Home, Hayes Valley
Coming Home, Painted Ladies
Coming Home, Pit Bull Alley
Coming Home, Tenderloin
Coming Home, Van Ness Inn

When launched, the app allows users to explore a full-scale 3D representation of this unique experience.

Unmute audio or use earbuds listen to the stories.

Coming Home is best viewed outdoors in a public space with ample room to walk around.

Teleport directly to key locations by tapping the link.

The best time to experience the project is in the late afternoon or early evening when the light softens and screen glare is minimal.
Coming Home, Civic Center 1.1 Update
This version of Coming Home, Civic Center includes some minor performance enhancements.
More