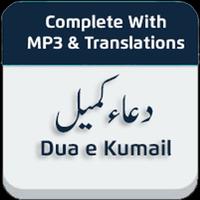 Dua e Kumail with Translations
Free Get
Screenshots for iPhone
More Screenshots for iPad
Dua e Kumail with Translations Description
This app contains Dua e Kumail . It is said that recitation of this dua helps to seek protection against the evils of the enemies and the plots contrived by impostors. Dua Kumayl is a famous supplication among Muslims, and is recited every Thursday. According to Allama Majlesi and Shia hagiography, Kumayl ibn Ziyad Nakha'i, a confidant of Ali ibn Abi Talib, had attended an assembly in the Mosque at Basra which was addressed by Imam Ali in the course of which the night of the 15th of Sha'aban was mentioned.
Ali ibn Abu Talib A.S has said: "Whosoever keeps awake in devoutness on this night and recites the Du'a of Prophet Khidhr, undoubtedly that person's supplication will be responded to and granted."
When the assembly at the Mosque had dispersed, Kumayl called at the house where Ali was staying, and requested him to acquaint him with Prophet Khidhr's supplication. Ali asked Kumayl to sit down, record and memorise the du'a which he dictated to Kumayl. Ali then advised Kumayl ibn Ziyad Nakha'i to recite this du'a on the eve of (i.e. evening preceding) every Friday, or once a month or at least once in every year so that, added Ali, "Allah may protect thee from the evils of the enemies and the plots contrived by impostors. O' Kumayl! in consideration of thy companionship and understanding, I grant thee this honour of entrusting this du'a to thee." Sheikh Tusi names this prayer "Du'a al-Khadir" and narrates that Kumayl ibn Ziyad saw Imam 'Ali narrate this prayer while he was in sujood (prostation). Sheikh Tusi (460 AH / 1067 CE) and Sayyid ibn Tawus (664 AH / 1271 CE) both record this prayer under the acts of worship for the 15th of Sh'ban.

Application Dua e Kumail Features:
1:- Astatic and beautiful interface
2:- Audio play , pause , stop and settings options
3:- Optional playing bar to play favorite part of the prayer
4:- Farsi ,English and Urdu translation of the prayer
5:- Changing font option
6:- Changing font size option
7:- Language option (Urdu, English , Farsi)
8:- Beautiful recitation.
9:- Text is highlighted as it is being read.
10:- Completely offline , No Internet.
Dua e Kumail with Translations 1.1 Update