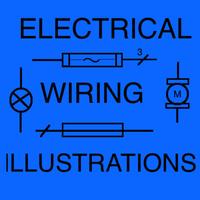 Electrical Wiring Illustrations
$2.99
Electrical Wiring Illustrations Description
This app comes with a set of illustrations for electrical wiring systems.

The illustrations of this app contain key information that is essential for understanding of electrical systems and the terminology used by Code.

Each illustration provided with this app shows Code compliant electrical systems and how they are implemented.

This app also contains an interactive tool called tools-on schematic view that can be used to calculate branch circuit rating according to Electrical Code.

The interactive tool does not require any keyboard entries. It uses sliders to select the load. As soon as the load is selected with sliders, circuit rating is calculated instantly. The results are displayed on an electrical circuit schematic.

This app is developed and tested for both iPhone and iPad.