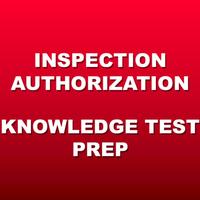 FAA IA Knowledge Test Prep
$9.99
Screenshots for iPhone
More Screenshots for iPad
FAA IA Knowledge Test Prep Description
The Inspection Authorization Knowledge Test Prep app is a great resource to test yourself on the hundreds of possible IA specific questions that you may see on your FAA Knowledge Test.

Our goal is to provide you with the largest, most current, pool of IA questions. Give yourself every possible advantage!

Remember, the actual exam will also test you on skills you would have learned as an A&P mechanic so its also recommended to review our General, Airframe and Powerplant Knowledge Test Prep Apps.

The questions from the IA exam is will refer you to excerpts of selected advisory circulars, airworthiness directives, Code of Federal Regulations, type certificate data sheets, aircraft specifications, FAA orders, and forms.

Since these documents are provided for free in PDF format from the FAA, they are not included to keep the app's file size as small as possible.

The Computer Testing Supplement for Inspection Authorization is available at
https://www.faa.gov/training_testing/testing/supplements/media/FAA-CT-8080-8D.pdf.


Features:

• Simple to use interface.

• Scores, the date and time taken for quizzes and tests are saved to keep track of your progress.

• Questions and answer choices are random.

• Optional sound effects for selected answers in Quiz Mode.

• Shocks for iPhone. Answer incorrectly and feel your iPhone vibrate! (This can be turned on and off.)

• No internet connection required.


Modes:

Quiz Mode - While taking a quiz, correct answers you choose are shown in green while incorrect ones are shown in red.

Test Mode - Simulates the test you are going to take at a FAA Knowledge Test Center. In this mode, you are asked 50 questions that are pulled from the question bank.

Study Mode - Here you can read all the questions with only the associated correct answers!
FAA IA Knowledge Test Prep 1.1 Update
App is now universal for iPhone and iPad.
Saved scores are now more easy to read.
You can now swipe the screen in addition to clicking the next button to move on to the next question.
More