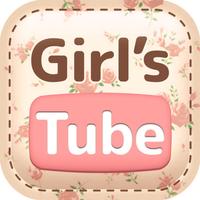 Girl'sTube -Free music player for Girl's 無料で音楽聴き放題
Free Get
Girl'sTube -Free music player for Girl's 無料で音楽聴き放題 Description
■ The first of it's kind! A feature to add full songs to playlists as you wish!!!

Top charts from 121 countries! Choose between a diversity of genres, such as Alternative, Pop and Soundtracks. You can choose freely between all artists and listen without charge!

Try MusicStereo, the easiest to use music app, now!

■ Secure!
MusicStereo doesn't make use of any suspicious API's, so you can use our app with relief.

■ Completely free!
And there is no need to register anything!
You can play music with just two taps after opening the app!

■ A music app first! Feature to share playlists!
Find popular playlists by other users and add them to your own list, share your own playlists with your friends or even give them away as a present!

■Listen to music and enjoy these new features!
・Feature to show lyrics
・Feature to Read 2-Channel
・Mini game

■ Smooth even on 3G & LTE!
You can change your settings to Low Quality and smoothly listen to your favorite songs even when not on Wi-fi!

■ Background play
Listen while playing with other apps as well!

■ Automatic Playlist feature
This is really handy! Please give it a try!
・Nostalgic songs from the 90's
・Songs featured in your favorite Tv-show
・All songs from your favorite artist

Create a playlist with just one button!

■ Replay and Forward features
Perfect when you want to rematch something,
or forward past a long interlude!

■ Watch Music Videos as well!
From Nostalgic ones to the latest, you can watch any music videos in High Quality!

■ Lots of different charts!
・Top charts from 121 countries!
・Pop, Jazz, Electronic, Rock, Lots of categories to choose from!

■ Other
・ Shuffle songs
・ Repeat songs
・ Artist Library
・ Music and videos from Youtube on repeat
・ Recent history, to easily find your favorites again!
・ Easily skip to the previous and next movie!
・ Search feature, and access to your recent searches
・ Share to Twitter and Facebook!
Girl'sTube -Free music player for Girl's 無料で音楽聴き放題 1.0.7 Update
More Information
Language:

Chinese

Czech

Danish

Dutch

English

French

German

Italian

Japanese

Korean

Norwegian Bokmål

Russian

Slovak

Spanish

Swedish

Vietnamese

More