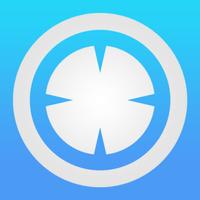 GPS Location
$0.99
Screenshots for iPhone
More Screenshots for iPad
GPS Location Description
GPS Location shows your current location, date & time to the second along with a scrollable map. Share your coordinates over SMS (text message), email, Twitter, Facebook or Weibo! If you share over email, Twitter or Facebook, GPS Location also attaches a screenshot so you can easily remember what the surrounding area looked like. You can copy your coordinates & locate anything you can find on the map with accurate crosshairs.

Have a telescope that needs your coordinates & the current time? Need to know the coordinates for your hunting stand? Going on a trek and need to find your lat/long? Want to scroll around the world and see where your favorite landmarks are? GPS Location is what you need.

After launch, the map automatically centers on your location. Coordinates of the map's center are shown in three formats (DD-MM-SS.S, DD-MM.MMM and DD.DDDDD). Elevation is shown feet & meters. Your phone's time is shown in Greenwich Mean Time (aka Zulu time). To recenter the map on your location, just hit the crosshairs button.

iPod touches and wifi-only iPads do not have GPSs. These devices will not be as accurate.

The iOS GPSs output in the WGS84 datum. GPS Location display coordinates in WGS84.

If you have any problems or suggestions, please email us at support@acceleroto.com.
GPS Location 1.12 Update
Thanks for the great feedback. We changed some things to make GPS Location better:
- The share & copy menus on the iPad now work again. Because, you know, they should work.
- In the last version, if you were checking out your awesome GPS Location (that little blue dot) and you moved the map around with your finger, the app turned the GPS off and stopped showing your location. We changed things so that your location is shown whenever it's on the screen. You can still toggle tracking your position with the crosshairs button just like before.
- Fixed a crash snuck into the last version. Before if you went to the share menu then told the app to save a screenshot, the app would crash instead of saving the photo. That's just not right. Fixed!
- Kicked the map crosshairs so that they're in the right spot on the iPad.
Thanks to all our awesome users! Please shoot us an email at support@acceleroto.com if you find any problems.
More