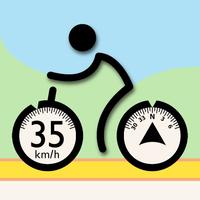 iBike HUD
Not Available
Removed
from the App Store
iBike HUD Description
Having trouble finding your way on your bike rides... not anymore! Just strap your device on the handlebar and get going on your route!

You can load routes to show on the map, directly from sites like:
○ Runkeeper.com
○ Garmin Connect
○ Strava

The app also supports loading route data from files (.gpx, .tcx, .json or .csv).

Connect to Dropbox for easy loading of route files or use iTunes File Sharing to sync your route files to your device. You can also load a route from an http-link or paste route data from the clipboard.


Tracking

The app tracks your activity, and displays:
○ Current speed & tempo
○ Average speed & tempo
○ Top speed & best tempo
○ Duration, remaining time or the current time of day
○ Distance or remaining distance
○ Current altitude, total descend, total climb, climbrate or inclination/grade


Auto pause

You need not to worry about pausing or resuming your activity, if you stop the activity is paused and resumed when you get going again. You can of course manually start / pause / resume and stop an activity.


Auto zoom

You don't need to zoom in or out during your ride, the app does this for you based on your current speed. I you are going slower (eg: towards an intersection), the map will zoom down to a close street level, so you can easily see where to go (or not to go). When your speed increases again, the map is zoomed out, so you see more of the route ahead.


There are three main navigation modes:

○ Auto Rotate
The map will auto rotate, making you always ride "up" the screen.
○ Follow Me
The map is not rotated ("up" is always North). But the map will always center on your position.
○ Free Ride
The map only shows your position, you need to pan and zoom yourself.


Auto hide map buttons

To save visual space, the buttons overlaying the map, can be partially hidden, after a specified time.


Weather

Display the weather forecast and temperature for your current location.


Windsock

You can also add a windsock (wind direction) and the current wind speed as an overlay to the map.


Compass

Add a compass rose to see your current heading.


Map types (three types are supported):
○ Normal
○ Hybrid
○ Satellite


Customize

You have the option to change some of the UI overlaying the map, like font sizes and button opacity.


!! Note !!

○ It's intended that you keep the the app open during your bike ride, the app does not log or track anything in the background or when the device is locked. It's recommended to connect the device to an external battery pack during your activity.

○ Continued use of GPS running and keeping the screen unlocked can dramatically decrease battery life.

○ Make sure the device is firmly attached to your bike using one on the market available phone holder products, not included with this app :-).
iBike HUD 1.0.2 Update
Fixed some stuff:
○ Remaining distance and remaining time was not reset after loading a new route or on removing routes.
○ Adjusted the general auto-rotation sensitivity (it was a bit too sensitive)
○ Improved the inclination / grade calculation
More