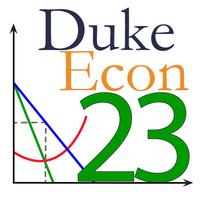 Intermediate Micro Econ 23 - Monopoly
Free Get
Intermediate Micro Econ 23 - Monopoly Description
Monopoly, monopoly profit maximization, price discrimination (first, second and third-degree price discrimination) and natural monopoly are covered in this app using animated diagrams with accompanying voice overs. The first six diagrams are at the standard intermediate level. The last four are more advanced and assume the user may have a background in calculus.

This app is designed to be of value for any intermediate micro economics student studying monopoly as well as first year graduate students in need of easy-to-access review materials.It contains 10 animated graphs with voice over that plays as graphs are drawn. Users can jump ahead to which ever graph or portion of graph is of interest. Graphs may be paused at any point or played in reverse without audio.

This app is based on Chapter 23 of _Microeconomics, An Intuitive Approach_, 2nd Ed by Thomas J. Nechyba, Department of Economics, Duke University, Durham, NC.
Intermediate Micro Econ 23 - Monopoly 1.0.0 Update