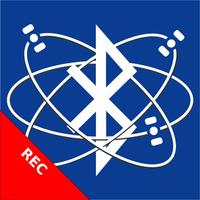 LE GPS Rec
Free Get
LE GPS Rec Description
LE GPS Rec receives your location over Low Energy Bluetooth (4.0), using the standard GATT profile LNS (Location and Navigation Service, UUID 1819) designed by the Bluetooth consortium.
This app (the receiver) is designed to show your GPS location info and your position on a map. It works with LE GPS app (the transmitter) also available on the App Store.

Use for example an iPhone with LE GPS app to stream your GPS data to
- an iPad (with this app).
- an Arduino or Raspberry Pi project you designed.

Find more receivers apps on my website!

With a free framework available on Github (https://github.com/RomainQuidet/LELocation-framework-iOS), any iOS developer will find it easy to integrate Bluetooth 4.0 within their app. And hobbyist will use it also easily! Use GPS everywhere!
LE GPS Rec 1.3 Update
- Updated receiver SDK to 1.5
- Read course and time as UTC
- correct GL770 GPS device support for elevation, time
More