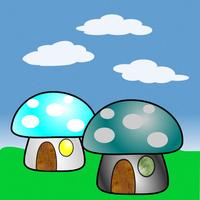 Muswoon Village Blackout
Free Get
Muswoon Village Blackout Description
It was like a suspension bridge swaying. Tables were vibrating. The ground was shaking. Suddenly, all lights were gone. The peaceful Muswoon village was having an earthquake. The houses and electric grid were moved. The powerhouse is still working, but cannot deliver the electricity to all the houses. It needs your help to fix the electric grid and houses, so that the village will come out of the scary blackout. Here is how you can help. It is very simple.

Rotate the houses and grid by tapping on it.

- each tap will rotate the house or grid 90 degree clockwise
- each house will receive electricity through the bottom of the house
- electricity only goes into a house, not out from a house (so when you get electricity through the bottom of the house, it won't light up grid lines connected to the side or top of the house)
- you need to light up all the grid and houses (only light up all houses doesn't complete the mission)

In the advance levels, there will be aftershocks. If you haven't completed the mission before the aftershock, some of the houses and grid will be moved again. So, you better hurry up!

This is an advertisement support puzzle game.
Muswoon Village Blackout 1.4 Update