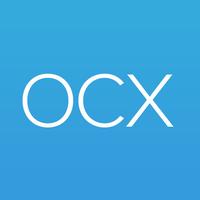 OCX Viewer
Free Get
Screenshots for iPhone
More Screenshots for iPad
OCX Viewer Description
OCX Viewer allows you to monitor currency prices including cryptocurrencies on the Open Currency Exchange™ (OCX™) from your iPhone or iPad through a simple and intuitive interface. OCX features an advanced market design that delivers unparalleled execution performance by combining direct, indirect and resting order liquidity in a single unified matching engine. Unlike legacy FX platforms which fragment liquidity into separate rooms, OCX has just one liquidity pool: yours.

The app is free to download and you can use it without logging in. Stay informed from home, while in meetings or on the go!

For each currency pair, the app displays bid and offer prices, the time stamp for when the price was last updated, and its intra-day change (GMT).

Depth of market/full book is automatically displayed for the selected currency pair.

Depth of market:
You can select any currency pair to see the depth of the market from multiple liquidity sources (full book) for that currency pair. You'll see price at size and all available liquidity at that price. The full book also displays the bid and offer rate, the time stamp for when that rate was last updated, and its intra-day change (GMT).

Charting:
For each currency pair, tick data is dynamically displayed as a line chart. Historic currency movements are available in four different kinds of charts:
* Candle
* OHLC bar
* Line chart
* Area chart

Historical data is available in the following intervals: 1 min, 5 min, 1 hour, 4 hours, 1 day, 1 week and 1 month.

Double-tapping the chart displays it in full screen view.

Simple and easy to use:
The layout is very intuitive but can be customized even further. A user can add and delete currency pairs. They can also be re-arranged in the order the user prefers them to be.

Update frequency:
When on Wifi, rates will be updated automatically every second. The update frequency for when on a cellular network is customizable by the user. Available intervals are 5 sec, 10 sec, or 30 sec updates.
OCX Viewer 6.0.7 Update
Updated App Store screenshots.
More