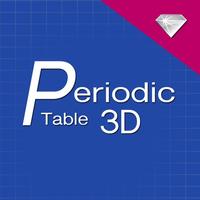 Periodic Table
Free Get
Periodic Table Description
แอปพลิเคชันตารางธาตุนี้ถูกพัฒนาโดยนักศึกษาคณะวิทยาศาสตร์และเทคโนโลยี มหาวิทยากรุงเทพ พัฒนาเพื่อใช้ในการศึกษาวิชาเคมี หรือเป็นความรู้สำหรับผู้ที่สนใจ โดยมีรูปแบบการใช้งานที่สะดวกและเข้าใจง่าย ซึ่งนำเสนอผ่านภาพประกอบที่สามารถเคลื่อนไหวได้ และคุณสมบัติเบื้องต้นของธาตุ

-ใช้สำหรับ iPad เวอร์ชัน 9.1 ขึ้นไป
-ให้ข้อมูลที่เป็นภาษาไทย
-สามารถค้นหาชื่อแต่ละธาตุได้
-สามารถหมุนภาพได้ 180 องศา โดยการสัมผัสหน้าจอ จำนวน 50 ธาตุ
-แบ่งแยกหมวดหมู่ของแต่ละธาตุ



This Pireodic Table 3D Elements was developed by students from the Faculty of Science and Technology,Bangkok University .The usefull chemistry tool and using for people who are interested in elements.Simple by desingn with an animated pictures including properties of each elements.

- Requirements for iPad all versions with iOS9.1+
- Thai version.
- Search
- Can be rotated by touchscreen of 50 elements.
- Sort the element by category.
Periodic Table 1.0 Update
การอัพเดทนี้ได้รับการลงชื่อด้วยการลงชื่อในใบรับรองล่าสุดของ Apple โดยไม่มีคุณสมบัติใหม่รวมอยู่
More