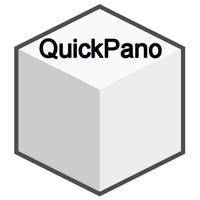 QuickPano
$5.99
QuickPano Description
QuickPano is a viewer for cubic and cylindrical panoramas, and now QuickTime Object files. It lets you import QuickTimeVR files or Equi-rectangular panorama images onto your iDevice, (iPhone or iPad), through iTunes or Dropbox or email, and view them on your iDevice. It has various viewing modes, including alignment of the panorama with the iDevice, giving a really intuitive interface to the panoramic view.

Features include:
-QuickTimeVR Cubic, Cylindrical and Object
-Equi-rectangular panorama images
-Alignment to iDevice
-Qtvr file association, allowing opening of email or web-linked qtvr files.
-Support for external projector or monitor.
-Sort panoramas into folders
-Watermark panoramas with your logo

Please note: "hotspots" are not currently supported.

NOTE: The QuickTimeVR file format can store the panorama images in a variety of formats like Jpeg or Png. QuickPano supports the most commonly used formats, and we are endeavouring to support the less commonly used ones too. If you are unsure which format is being used in the files you want to visualise, please send us a sample and we can test for compatibility prior to purchase.

Please remember to leave us a review. If you wish, you can send us feedback directly, we reply to every email sent to us.

If you experience any problems or bugs in the app, please email us your device information, which iOS version you are running, and we will fix it asap.
QuickPano 3.0.0 Update
Google Cardboard VR support
Update to new Dropbox SDK
Other bug fixes and optimisations
More